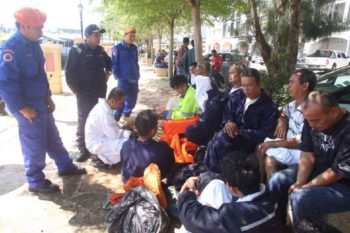 An Indonesian cargo ship sank in the busy Malacca Strait early Wednesday, triggering a search for two missing seamen, Malaysian maritime authorities said.
The KM Avatar with 15 crew went down off Cape Keling in the southern state of Malacca, the Maritime Enforcement Agency said in a statement.
The agency's director-general, Indera Zulkifili Abu Bakar, said a passing ship the MV Undine rescued 13 of the crew but the captain and cook were missing.
Indera said that despite bad weather and high waves, a patrol vessel and a helicopter had been deployed to search for the two.
The cause of the incident is being investigated, he said.
The Malacca Strait, between Malaysia and the Indonesia island of Sumatra, is one of the world's busiest shipping routes.