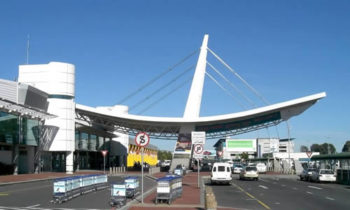 South African Police said two men were shot and injured in a drive-by shooting at South Africa's Cape Town International Airport on Wednesday.
Police spokesperson Vish Naidoo disclosed that operations at the airport, the second busiest in the country and a tourism hub, were not affected.
Naidoo said the motive for the shooting was unknown.
"A man, about 50 years of age, was shot in a drive-by shooting and in the process a bystander, a 30-year-old man, was also hit," Naidoo said.
The shooting took place in the early morning in a public area some distance from the airport's security gates, Naidoo said.
Flights had not been affected, the airport's general manager Deon Cloete said in a statement.
"The shooting scene has been cordoned off while investigations continue," Cloete said.
Local media reported that the shooting was gang-related, but the police spokesperson  could not confirm that was the motive.
The airport is Africa's third busiest and handles around 10 million passengers a year, including tourists and business people commuting to the economic hub Johannesburg.