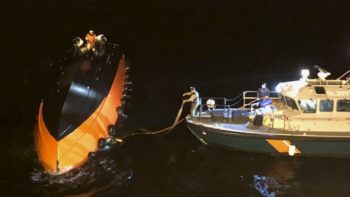 Two Finnish pilot boat operators have died after the boat they were on capsized and sank in the Gulf of Finland on Friday.
The accident occurred at 4:58 p.m. Friday evening when the pilot boat L242 overturned off of Emäsalo island as they headed to pick up a pilot at the northern pilot boarding position, according to a statement from Finnpilot Pilotage, which operates the vessel. Despite efforts to right the overturned vessel, the boat eventually sank during the rescue.
Divers later located and recovered the bodies of the two operators from inside the sunken vessel. Both of the victims were employees of Finnpilot. They were the only two people on board at the time.
"I would like to extend my deepest condolences to the relatives and co-workers of those who died in the accident, and thank everyone who participated in the search and rescue effort," states Kari Kosonen, CEO at Finnpilot.
The pilot boat involved in the incident had been in the service with Finnpilot since Fall 2015. The vessel has a length of 15.4 meters and width of 5.1 meters, and was inspected by VTT Technical Research Centre of Finland Ltd.
The cause of the capsizing is unknown at this time. An accident investigation will be carried out by Finland's Safety Investigation Authority.
Finnpilot intends to raise the pilot boat with the aid of the Safety Investigation Authority (OTKES) and the Finnish Environment Institute (SYKE). The salvage operation is expected to take about two weeks, depending on weather.
The company held a moment of silence today at noon in remembrance of the victims.
"We warmly thank all those who have sympathized with us during this devastating time. We have received an enormous outpouring of condolences, which have been a great source of support for the entire personnel. Thank you for that. We will also be passing those messages on to the relatives of those who died in the accident," said Kosonen.
"Maritime traffic does not stop, however, so we are continuing to take care of our primary tasks today as usual," added Kosonen.  
Copyright Ships & Ports Ltd. Permission to use quotations from this article is granted subject to appropriate credit given to www.shipsandports.com.ng as the source.