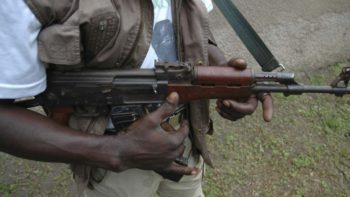 A woman was on Thursday robbed of an undisclosed amount of money by two men in Apapa, Lagos. She was robbed in broad daylight as she came out of a commercial bank.
After the robbery, the two men fled on a motorcycle, abandoning their car, a Toyota Camry, when they ran into traffic around Kofo Abayomi area.
An eyewitness, Ifeanyi Ikechukwu, said, "The robbers drove a grey Toyota Camry car and robbed a woman selling snacks and recharge cards near Mobil filing station at Annex Bus stop. She was said to have gone to the bank to withdraw money for her business, especially recharge cards.
"The robbers drove through Kofo Abayomi and on meeting traffic, they used their vehicle to hit a commercial motorcycle.
"They immediately disembarked and snatched the bike from the owner and drove off on it.
"Although other commercial motorcyclists chased them, they were not able to catch up with them."
Policemen from Apapa Division have since taken away the vehicle.
A source said police would investigate to ascertain the vehicle's owner.
He said, "If the vehicle belongs to the robbers, the particulars will make it easier for us to arrest them, but if it doesn't, we will still go to the vehicle licensing organisation to get the details of the owner and ensure they are informed."
Copyright Ships & Ports Ltd. Permission to use quotations from this article is granted subject to appropriate credit given to www.shipsandports.com.ng as the source.