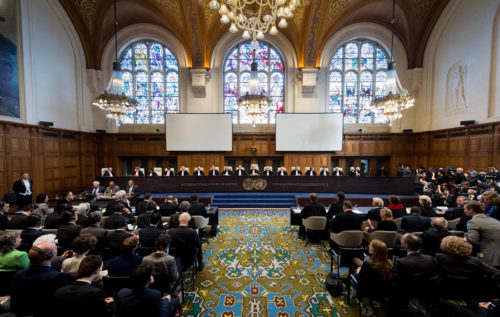 The International Court of Justice (ICJ) has said that the United Kingdom should hand back to Mauritius control of an Indian Ocean archipelago where a key U.S. naval base is located.
ICJ President Abdulqawi Ahmed Yusuf, while delivering an opinion on the matter at The Hague, said U.K.'s continued administration of the Chagos archipelago is an unlawful act of a continuing character.
"Accordingly the U.K. is under an obligation to bring an end to its administration of the Chagos archipelago as rapidly as possible," he said. 
The United Nations in 2017 sought an advisory opinion from the ICJ, its principal judicial organ, on the legal status of the archipelago.
Chagos is part of the British Indian Ocean Territory, which has been administered by the U.K. since 1965, when it paid the then self-governing colony of Mauritius 3 million pounds ($3.9 million) for control of the islands. 
Between 1967 and 1973, hundreds of inhabitants were removed to make way for the Diego Garcia U.S. military base, which has been used to launch bomber jets for wars in Iraq and Afghanistan.
Mauritian Prime Minister Pravind Jugnauth in August obtained the backing of the African Union and about 30 other countries in his bid to have control of the archipelago returned to Mauritius. 
The request to the ICJ excludes Diego Garcia, he said.   
Responding to the ICJ view, British Foreign Office Minister, Alan Duncan said his country would consider the view of the court but the dispute is with Mauritius and should be resolved bilaterally.
"We will of course consider the detail of the opinion carefully but this is a bilateral dispute and for the General Assembly to seek an advisory opinion by the ICJ was therefore a misuse of powers which sets a dangerous precedent for other bilateral disputes.
"The defense facilities on the British Indian ocean territory help to keep people here in Britain and the world safe and we will continue to seek a bilateral solution to what is a bilateral dispute with Mauritius," Duncan said.