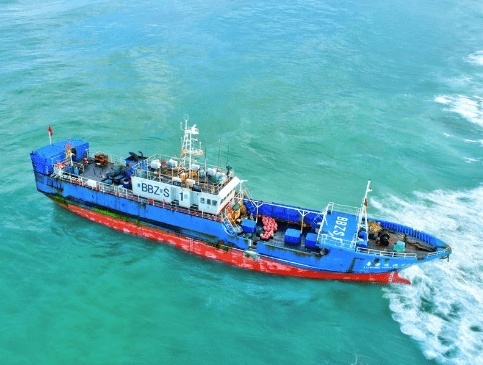 A Chinese-flagged fishing vessel with 16 crew members carrying 130 tonnes of oil has run aground off Mauritius, causing a minor spill, a minister said on Monday.
The country's Minster of Blue Economy, Sudheer Maudhoo, however said there was "nothing to be worried about" as floating booms have been deployed to control leaks from the vessel.
Drone footage showed dark patches in the Indian Ocean waters near the "Lu Rong Yuan Yu 588" after it ran aground on Sunday.
Maudhoo said the Lu Rong Yuan Yu's captain made distress calls after his ship ran into trouble by Pointe Aux Sables.
Authorities brought crew members to shore. They are now quarantined in line with COVID-19 protocols.
"We hope to pump out all the fuel on board by tomorrow or the next day, then after four to five days, we will carry out a salvage operation to remove the ship," Maudhoo added.
The incident is coming eight months after a devastating oil spill by the MV Wakashio, which occurred offshore of Pointe d'Esny, south of Mauritius after the Japanese bulk carrier Wakashio ran aground on a coral reef on 25 July 2020.
Wakashio began to leak fuel oil in the following weeks, and broke apart in mid August 2020. Although much of the oil on board Wakashio was pumped out before she broke in half, an estimated 1,000 tonnes of oil spilled into the ocean in what was called by some scientists the worst environmental disaster ever in Mauritius. The Mauritian government declared the incident a national emergency.
Copyright Ships & Ports Ltd. Permission to use quotations from this article is granted subject to appropriate credit given to www.shipsandports.com.ng as the source.