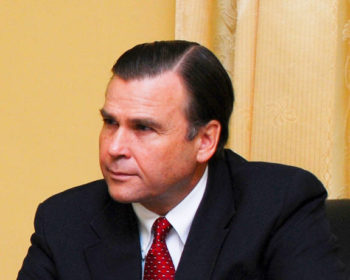 The U.S. Ambassador to Nigeria,  Stuart Symington, has expressed the willingness of the U.S. business community to explore investment opportunities in Enugu State.
Symington made the assertion in Enugu on Friday during a courtesy visit on Gov. Ifeanyi Ugwuanyi on Friday.
He said that his visit to the state had afforded his country the opportunity to strengthen business ties with the people.
The ambassador said that the visit was to acquaint himself with the culture of the people with a view to exploring rewarding opportunities in the state.
"We are here to further strengthen the ties between my country and Nigeria and also work towards ensuring that our businessmen explore rewarding opportunities in Enugu State,'' he said.
Symington said that the provision of infrastructure in the state by the current administration was exemplary.
Responding, Ugwuanyi said that his administration was willing to share ideas and collaborate with the U.S. on developmental issues and good governance.
He said that the state government and the entire South-East zone would leverage on the visit to engender mutually beneficial relationship.
The governor said that the visit of the envoy was more apt at a time his administration had moved to diversify the state's economy through foreign direct investment.
"We have in this respect, continued to invest heavily in all areas, including security, infrastructure development, environmental improvement, expansion and regularisation of social services.
"These, we believe, will help to sustain a friendly environment for business investments to flourish in the state,'' he said.
He said that more than 17 potentially lucrative state-owned enterprises had been listed for commercialisation and privatisation.
Ugwuanyi solicited for the assistance of the embassy in the country to sensitise U.S. investors on the potential in the state as well as facilitate their entry into the state.
"We solicit the direct assistance of the U.S. government in some critical sectors of the state's economy such as education, healthcare and agriculture.
"We equally need collaboration in the area of security through the provision of modern communication equipment and other gadgets,'' he said.
The governor said that the presence of an international passenger and cargo airport as well as the ongoing establishment of a Free Trade Zone in Enugu were additional incentives that would boost the state's economic profile.
Ugwuanyi pledged the protection of commitments or investments that would be made by the U.S. government or organisations, adding that such would yield the desired dividends.