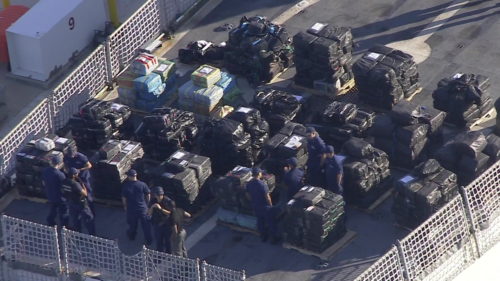 The crew of the U.S. Coast Guard Cutter Tampa on Friday offloaded 13.5 tons (27,000 pounds) of cocaine worth $360 million in Miami, Florida on Friday. 
The Coast Guard said the drugs were seized in international waters in the Eastern Pacific Ocean off the coasts of Mexico, Central, and South America.
The drugs are the result 12 separate vessel interdictions by the U.S. Coast Guard cutters Dependable (WMEC-626), Tampa (WMEC-902) and Venturous (WMEC-625).
"Tampa's crew is extremely proud of the work they accomplished over the past three months," said Commander Nicholas Simmons, commanding officer of the Tampa. "There are few things more frustrating to our sailors than idle deployments, and none more gratifying than accomplishing a very important mission with impacts that resound across our Nation. For many of the crew, this will be their last deployment on Tampa, and it's one they will always remember."
The Coast Guard is one of several U.S. agencies from the Departments of Defense, Justice and Homeland Security, along with international partners involved in the effort to combat transnational organized crime and stem the flow of drugs from Central and South America through known drug trafficking zones in the Eastern Pacific and Caribbean Basin.