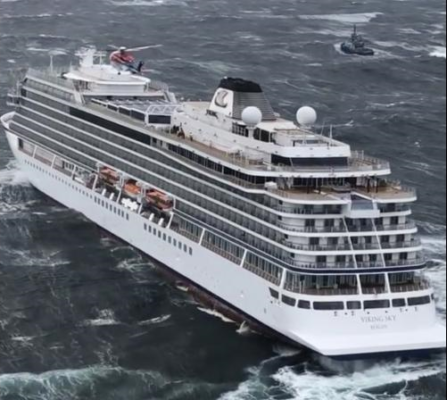 A cruise ship, the Viking Sky, which suffered an engine failure off the coast of Norway on Saturday, has arrived safely at the port of Molde after the evacuation of hundreds of its passengers by helicopters. 
The 47,842gt ship was en route to Stavanger from Tromso on Saturday when it lost power and sent out a distress signal after it began drifting towards land. 
The 465-cabin ship has capacity for 930 passengers and 550 crew. About 500 of the 1,373 passengers and crew onboard had to be airlifted in bad weather before three of its four engines were later restarted for its trip to Molde port. She arrived and docked safely at the pot on Sunday afternoon.   
Viking Sky was launched in 2016 and entered service in 2017. She is registered in Norway and operated by Viking Ocean Cruises.