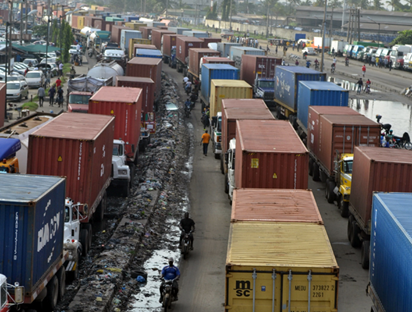 Clearing agents and other port users in Lagos have raised alarm over the activities of officials of the Federal Operations Unit (FOU) Zone A of the Nigeria Customs Service (NCS) along the Wharf Road, Apapa, Lagos, accusing the officials of worsening the Apapa gridlock. 
The concerned stakeholders say the FOU officials – stationed along the busy Leventis Bus Stop on Wharf Road – stop trucks indiscriminately thereby impeding the free flow of traffic on the narrow road, which is the only exit for trucks and vehicles out of Apapa. 
SHIPS & PORTS correspondent observed that the FOU operatives, apart from having their vehicles stationed permanently on the road at the ever-busy Leventis Bus Stop, have also created a makeshift tent, thereby further narrowing the road and worsening the gridlock. 
The FOU officials stop container trucks coming from the Lagos Port Complex Apapa and the Tin Can Island Port Complex for re-check. 
Some clearing agents who spoke with SHIPS & PORTS on the development, decried the activities of the operatives, which they say is contrary to an earlier stance by the Comptroller General of Customs, Hameed Ali, that FOU operatives would only operate 40 kilometres away from the port.
Publicity Secretary, National Association of Government Approved Freight Forwarders (NAGAFF), Stanley Ezenga, described the activities of the FOU operatives as illegal.
"Their stay there in all ramifications is illegal. The Comptroller-General (of Customs) at one of the stakeholders' forum said Customs FOU shall not be stationary but they should be roving operators but it is a general knowledge today that they have stationed themselves at Leventis. They were also joined there by the Strike Force team and other intervention force created by the CG.
"If you reside within Apapa and you want to leave between 3pm and 4pm at the peak time when workers must have closed for the day, you will see the traffic the activities of FOU usually cause at Leventis stretch down to Eleganza Bus Stop because that is when most of the containers leave the port after they finish their documentation. 
"The trucks are articulated vehicles and so by the time you stop two or three on that road, the vehicles coming from behind will not have space to manoeuvre and when those coming from work join the queue, it becomes very chaotic," he said. 
A clearing agent, Frank Okezie said, "I don't know why we should be talking about this issue as this time and age; to me it is misnomer. If Customs has inspected and released from the port and less than three kilometres, we have another unit of Customs checking again, it is a shame.
"Is it that Customs don't trust their colleagues working in the port?  Because the FOU operatives are there, we now have a mini market there where people sell diesel in jerrycans and other foodstuff. Before you know it, it will become a big market. These are activities affecting traffic on the port access road and naturally like in our system, a driver cannot go through Customs check without dropping something.
"Apart from Customs, we also have operatives of Standard Organization of Nigeria (SON) stopping containers there to check. Going out of Apapa has become a problem. At any given time, you see five, six containers lined up on the access road."
When contacted, Public Relations Officer, FOU, Jerry Attah, stated that the officers are stationed there to carry out their legitimate duty, stressing that Customs would not facilitate ease of doing business at the expense of national security.
According to him, "There is no task team that is above national interest. So whether we like it or not, national interest supersedes whatever ease of doing business we want to talk about. If we want to ease business, first we must talk about national interest because if we or our environment are not safe, I don't think business can thrive. Hence, the reason why you see some of our patrol team along that route and they only stop container based on intelligent so that people can be safe.