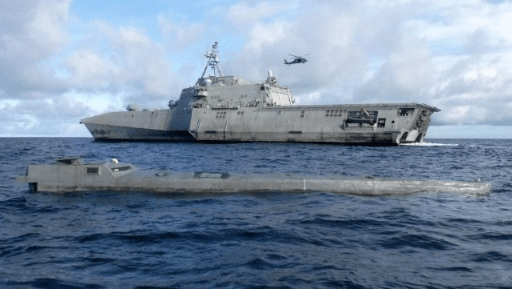 The littoral combat ship USS Gabrielle Giffords has seized suspected cocaine worth more than $100 million from a low-profile drug smuggling vessel in the Pacific Ocean, the Navy said over the weekend.
USS Gabrielle Giffords (LCS 10) was embarked with a U.S. Coast Guard Law Enforcement Detachment when it intercepted the low-profile vessel suspected of smuggling narcotics on December 5. A search of the vessel recovered approximately 134 bales containing an estimated 2,810 kilos of suspected cocaine. Three suspected drug traffickers were also detained.
The Navy estimated the value of the cocaine at $106 million wholesale.
"Interdiction evolutions, no matter how often you conduct them, are different every time," said Chief Boatswains Mate Daniel Pike, of Gabrielle Giffords. "Our team is dedicated to exemplifying the qualities of safe, professional mariners during these operations from start to finish."
Gabrielle Giffords is deployed to the U.S. 4th Fleet area of operations to support Joint Interagency Task Force South's mission, which includes counter illicit drug trafficking in the Caribbean and Eastern Pacific.