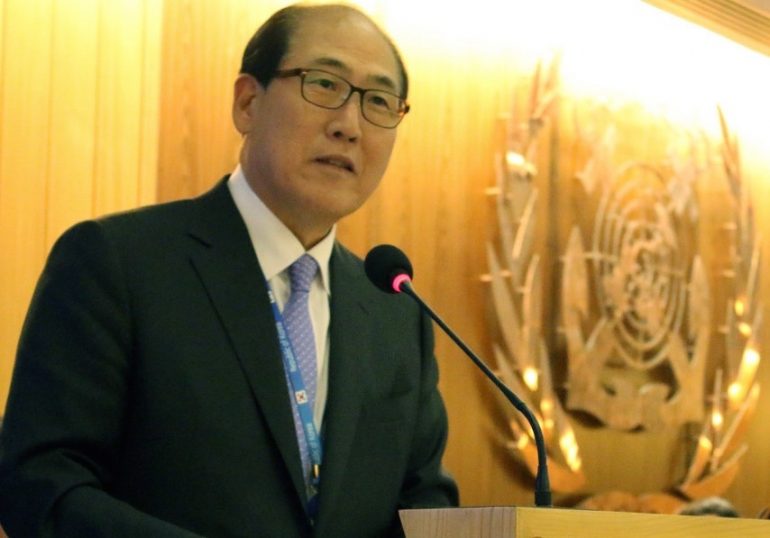 International Maritime Organization (IMO) Secretary-General, Kitack Lim, has called on stakeholders in the maritime and shipping industry to work together for a "sustainable post-pandemic recovery and truly sustainable future".
In a video address to the opening of Seatrade Maritime Middle East Virtual on Monday, Lim said that the COVID-19 pandemic had had an unprecedented impact on the maritime sector and seafarers
On the one hand, it had underscored the vital nature of maritime trade, but also left seafarers stranded on vessels at the end of their contracts unable to be relieved by seafarers stuck at home ashore.
He said, "The world depends on maritime trade and this has been in evidence as shipping has continued to deliver vital goods, food and medical supplies throughout the pandemic.
"Sadly, we have also seen how seafarers have become collateral victims, hundreds of thousands of seafarers are stranded onboard or desperate to get to ships or home. We are working in close collaboration and cooperation with the UN agencies, with industry stakeholders and the governments to try to resolve this crisis."
Despite the impact on the industry and its seafarers, the IMO Secretary-General sees shipping as playing a vital role in the post-pandemic recovery.
"Shipping will also be at the heart of the economic recovery and sustainable growth far into the future.
"I'm certain we will have an opportunity to build back a better more efficient and greener [industry]. To achieve this, IMO's comprehensive network of regulation covering all aspects of shipping has never been so relevant. The pandemic has illustrated the need for greater efficiency, shipping sustainability beyond the pandemic will depend on its ability to embrace digitalisation and new and smart technologies," the IMO scribe stated.
"Maritime trade is vital to the global economy, building a safer, greener and cleaner and more sustainable maritime industry will require further international cooperation, targeted holistic intervention and investment today for a more sustainable tomorrow.
"We must all work together to enable a sustainable post-pandemic recovery and a truly sustainable future."