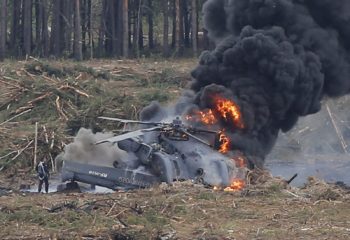 All American service members and crew aboard a U.S. military helicopter were killed in a crash in western Iraq, the U.S. Central Command said on Friday.
Central Command did not say how many people were killed in the crash late on Thursday. A U.S. military official told Reuters on Thursday that the U.S. HH-60 Pave Hawk helicopter was carrying seven people.
The crash, which did not appear to be the result of enemy activity, is under investigation, the command said in a statement.
"All personnel aboard were killed in the crash. This tragedy reminds us of the risks our men and women face every day in service of our nations," said Brigadier-General Jonathan Braga, Director of Operations of the Combined Joint Task Force.
The military said a second accompanying American helicopter immediately reported the crash and Iraqi security forces and coalition members secured the area.
Two U.S. officials, speaking on condition of anonymity and citing initial reports, said on Thursday the aircraft crashed near al-Qaim, a town in Anbar province close to the Syrian border.
The United States says it has about 5,200 troops in Iraq that are part of a coalition fighting Islamic State militants.
Agency Report