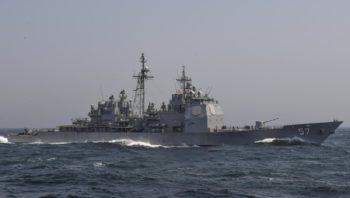 A South Korean fishing vessel collided with the USS Lake Champlain (CG 57) while the guided-missile cruiser was conducting routine operations in international waters, the U.S. Navy said Tuesday.
In a statement, the Navy said the 60 to 70-foot-long fishing vessel collided with Lake Champlain's port side amidship at approximately 11:50 a.m. local time on Tuesday, May 9, 2017. The statement said the incident occurred in waters east of the Korean Peninsula.
No injuries were reported in the collision and both ships were able to navigate under their own power.
Damage assessments of both the Ticonderoga-class guided missile cruiser and the fishing vessel are underway.
USNI News, citing a defense official, reported that the fishing vessel lacked functioning radio or GPS and did not heed audio warnings in the lead-up to the collision. The report added that the collision occurred in limited visibility.
Lake Champlain is part of the Carl Vinson Strike Group, including the Nimitz-class aircraft carrier USS Carl Vinson, the guided missile destroyers USS Wayne E. Meyer and USS Michael Murphy, and guided missile cruiser USS Lake Champlain, which is currently on a Western-Pacific Deployment.
In April the carrier was re-directed from its previously planned port visits to Australia to sail north towards the Korean Peninsula amid rising tensions with North Korea. Later in the month North Korea threatened to sink the aircraft carrier as two Japanese navy ships joined the carrier group for exercises in the Western Pacific.
The collision involving the Lake Champlain is under investigation by both U.S. Navy and South Korea Coast Guard. 
Copyright Ships & Ports Ltd. Permission to use quotations from this article is granted subject to appropriate credit given to www.shipsandports.com.ng as the source.