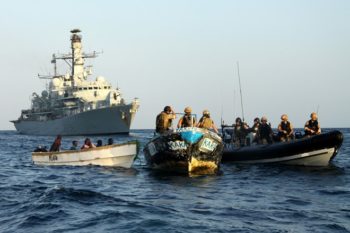 Yemen's worsening conflict is contributing to a spike in piracy in the region, with Somali pirates taking advantage of a reduced international naval presence and more readily available weaponry to carry out attacks.
"The regional instability caused by Yemen is important," Colonel Richard Cantrill, chief of staff with the European Union's counter piracy mission EU NAVFOR, told Reuters last week.
Fighting between Yemen's Iran-aligned Houthi rebels and a Saudi-led coalition has spilled over into the shipping lanes through which much of the world's oil passes.
Attacks on merchant ships in recent weeks by Somali gangs around the Gulf of Aden, the first since 2012, have raised fears of a return to hijackings and crews being taken hostage for long periods.
This is partially driven by the risk of famine and drought in the region, navy officials said, adding that there have been around six incidents involving Somali pirates and international merchant ships in recent weeks.
These included the attempted hijacking in April of a Tuvalu-flagged cargo ship that was rescued by the Chinese navy after the crew sent a distress call.
Separately, Somali pirates held the Sri Lankan crew of a Comoros-flagged ship hostage before they were released.
A study by the Oceans Beyond Piracy non-profit group last week showed the cost of piracy in East Africa reached $1.7 billion last year, up from $1.3 billion in 2015 but well below the $7 billion reached in 2010.
Piracy peaked in 2011 and then declined after ship owners improved security and international naval forces stepped up patrols. But naval resources have since tightened due to other crises, while shipping companies – struggling with one of the worst sector downturns – have tried to cut costs.
Gerry Northwood, of maritime security firm MAST and a former British Royal Navy captain with experience commanding warships in the region, said the area around the Horn of Africa and a section of water known as the Socotra Gap – between Somalia and the Yemeni island of Socotra – was a hub for local trading and fishing and the main route through which Somali mother vessel dhows moved between the Gulf of Aden and the wider Indian Ocean.
EU NAVFOR's Cantrill said smaller vessels with slower speeds were more vulnerable in the Socotra Gap, which is outside of a sailing zone protected by international warships.
The spate of attacks by pirate gangs has also been linked to growing anger among Somalis over the failure by authorities to crack down on foreign fishing vessels threatening their livelihoods, as well as an influx of weapons.
"The price of weaponry has markedly reduced. So, if you are trying to get hold of a certain weapon, it might easier now and cheaper and that could have an impact on criminal actors in Somalia – some of whom might wish to return to piracy," Cantrill said.
However, there was still a "real willingness between navies and nations to co-operate" despite tighter assets available, Cantrill said, adding that the coming weeks following the monsoon season would be crucial as attacking vessels becomes easier due to better weather conditions at sea.
"We have seen a spike in piracy activity, but I would not yet characterize it as a resurgence," Cantrill said.   
Copyright Ships & Ports Ltd. Permission to use quotations from this article is granted subject to appropriate credit given to www.shipsandports.com.ng as the source.