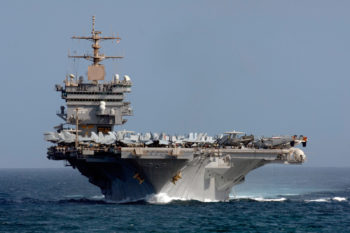 The U.S. Navy has decommissioned the world's first nuclear powered aircraft carrier, USS Enterprise (CVN 65), during a ceremony held in the ship's hangar bay on Friday at Newport News Shipbuilding.
The ceremony not only marked the end the ship's nearly 55-year career, it also served as the very first decommissioning of a nuclear-powered aircraft carrier.
Capt. Todd Beltz, commanding officer of the Enterprise, addressed the ship's company, former commanding officers and distinguished visitors and spoke of where the true spirit of "The Big E" comes from.
"For all that Enterprise represents to this nation, it's the people that bring this ship to life," said Beltz. "So as I stand in this ship that we all care so much about, I feel it's appropriate to underscore the contributions of the thousands of Sailors and individuals that kept this ship alive and made its reputation. We are 'The Big E.'"
Enterprise was the eighth naval vessel to carry the name. It was built by the Newport News Shipbuilding Co. and was christened Sep. 24, 1960, by Mrs. Bertha Irene Franke, wife of former Secretary of the Navy William B. Franke. The ship was put to sea in 1961 and safely steamed more than one million nautical miles on nuclear power over its entire career of more than 50 years. The ship aided in the Cuban Missile Crisis and operations Enduring Freedom and New Dawn, as well as naval maritime security operations.
Key-note speaker Rear Adm. Bruce Lindsey, commander, Naval Air Force, Atlantic, used his own experiences aboard Enterprise to emphasize the unmatched adaptability and capability of not just this ship but of all nuclear-powered aircraft carriers.
"One cannot influence world events if you are not on station and stay on station; in other words: to be where it matters, when it matters," said Lindsey. "Nuclear carriers are tough and no other country can match us in this respect."
Though Enterprise's history is long and filled with a number of successful deployments, Beltz offered highlights from a letter written by Adm. James Holloway III, Enterprise's third commanding officer, which looked toward the future of the namesake in the proposed construction of the ninth Enterprise, CVN 80.
"As this ship retires," Beltz recited, "we know the memory will live beyond her and we–the sailors, the shipbuilders, the supporters of Enterprise – we are that link to the next Enterprise."
The first super carrier powered by nuclear reactors, USS Enterprise is also the first to undergo an inactivation, which includes defueling the ship's eight reactors and preparing the hull for its final dismantlement.
Copyright Ships & Ports Ltd. Permission to use quotations from this article is granted subject to appropriate credit given to www.shipsandports.com.ng as the source.