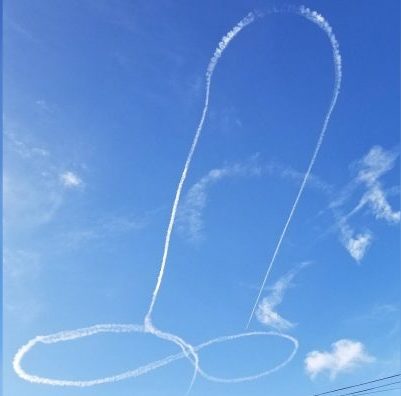 By Jite Eriabie 
A U.S. Navy air crew was grounded on Friday after using their advanced fighter jet to draw a giant image of a penis in the sky with the exhaust, officials said.
The incident took place in skies over Okanogan County in Washington state on Thursday, when a Navy E/A-18 Growler warplane flew the unusual air pattern.
Images of a condensed air trail in the shape of a penis immediately went viral on social media. A local television station said one mother in Okanogan County was concerned she might have to explain them to her young children.
The Navy, which is trying to crack down on sexual assault in its ranks, issued a formal apology on Friday for what it called an "irresponsible and immature act."
"Sophomoric and immature antics of a sexual nature have no place in Naval aviation today," Vice Admiral Mike Shoemaker, the commander of Naval Air Forces, said in a statement. "We will investigate this incident to get all the facts and act accordingly."