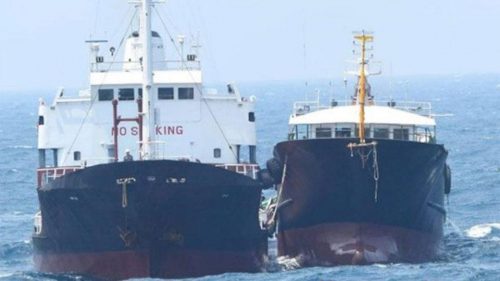 The U.S. cracked down on illicit North Korean oil imports, sanctioning a handful of Taiwan and Hong Kong-based companies for helping Pyongyang evade international restrictions on its petroleum trade.
The Treasury Department said in a statement on Friday that North Korea has continued to use ship-to-ship transfers at sea to evade United Nations restrictions on its oil imports. Treasury also alleged that North Korea has received deliveries of refined petroleum directly from ships flagged under other countries, and said those countries hadn't reported the deliveries to the UN.
The statement didn't name the countries involved.
U.S. and North Korean negotiators haven't met since President Donald Trump and Kim Jong Un promised to restart working-level talks in "two to three weeks" during their June 30 meeting at the Demilitarized Zone. Kim has resumed missile launches in recent months and has given the Trump administration until the end of the year to make a better offer on sanctions relief.
Treasury's announcement Friday suggested the U.S. isn't poised to lift the penalties anytime soon.
"The cumulative effect of these deliveries," Treasury said in its statement, is that the UN's official accounting of North Korea imports "vastly underrepresents the volume of refined petroleum products that actually enter the DPRK via its fleet of oil tankers and other associated vessels."
In addition to ship-to-ship transfers of fuel, the UN says North Korea, which is formally the Democratic People's Republic of Korea, has mastered hacking into both old and new financial systems to funnel billions of dollars to its nuclear weapons program. North Korean agents have amassed about $2 billion by stealing money from financial institutions and cryptocurrency exchanges, a panel monitoring the enforcement of UN sanctions said in a report this month to the Security Council.
Treasury said it had added Taiwan-based companies Jui Pang Shipping Co. and Jui Zong Ship Management Co. to its sanctions list, as well as Hong Kong-based Jui Cheng Shipping Company Limited.
Sanctions enforcement is a crucial aspect of Trump's effort to get Pyongyang to eliminate its nuclear program by choking off the hard cash that keeps North Korea's meager economy alive. While Kim's regime is permitted to import as much as 500,000 barrels of oil, the U.S. in June told a Security Council committee that North Korea had exceeded that amount through illicit ship-to-ship transfers.