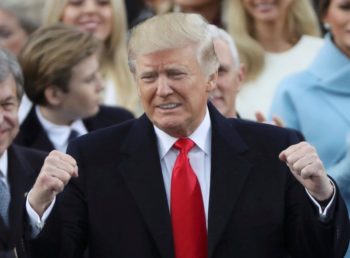 In keeping with his campaign promise, U.S. President, Donald Trump has signed an executive order to withdraw the country from the Trans-Pacific Partnership trade deal (TPP).
This was part of a series of executive orders, which Trump intends to implement as part of efforts to reshape the trade policies of the United States.
The deal, which was an initiative of former President Barack Obama, was signed by 12 countries and covered 40 per cent of the World's economy.
The massive trade deal was negotiated in 2015 by nations including the US, Japan, Malaysia, Australia, New Zealand, Canada and Mexico, but has not yet been ratified by the individual countries.
Its aim was to strengthen economic ties and boost growth, including by reducing tariffs.
It also included measures to enforce labour and environmental standards, copyrights, patents and other legal protections.
Prior to signing the Executive Order, Trump pledged to cut regulations and taxes massively so as to keep more jobs in the U.S.
Trump disclosed this while meeting with executives from companies including defence manufacturer Lockheed Martin, apparel maker Under Armour, appliance manufacturer Whirlpool, electric-carmaker Tesla and pharmaceutical giant Johnson & Johnson.
He pledge to impose a border tax on companies that move manufacturing out of the U.S.
"We're going to be cutting regulation massively", but the rules will be "just as protective of the people", he told reporters after the morning meeting in the White House's Roosevelt Room.
He pledged to lower corporate taxes to 15% or 20% from the current 35% and lift regulations by up to 75%.
Since winning the White House, Trump has upbraided US companies that have moved factories overseas.
Copyright Ships & Ports Ltd. Permission to use quotations from this article is granted subject to appropriate credit given to www.shipsandports.com.ng as the source.