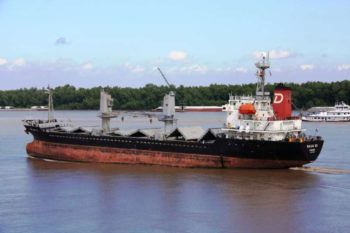 The U.S. continues to clamp down on North Korean vessels suspected of breaching the sanctions imposed by the United Nations Security Council.
On Wednesday, the U.S. Department of the Treasury's Office of Foreign Assets Control (OFAC) sanctioned five North Korean shipping companies for operating in the transportation industry in North Korea. The said companies are Gooryong Shipping, Hwasong Shipping Co, Korea Kumunsan Shipping, Korea Marine & Industrial Trdg, and CK International.
Six vessels pertaining to the said companies have also been blocked, those being: general cargo ships Goo Ryong, Hwa Song, Un Ryul, Ever Glory and Ul Ji Bong 6, and North Korean-flagged tanker Kum Un San.
As informed, Ul Ji Bong 6 delivered coal to Kholmsk, Russia, on September 5, 2017.
OFAC also sanctioned nine entities, 16 individuals, and the North Korean Ministry of Crude Oil Industry, which handles crude oil for North Korea.
"Treasury continues to systematically target individuals and entities financing the Kim regime and its weapons programs, including officials complicit in North Korean sanctions evasion schemes," said Secretary of the Treasury Steven T. Mnuchin.
"Pursuant to UN Security Council Resolutions, the U.S. government is targeting illicit actors in China, Russia, and elsewhere who are working on behalf of North Korean financial networks and calling for their expulsion from the territories where they reside. We are sanctioning additional oil, shipping, and trading companies that continue to provide a lifeline to North Korea to fuel this regime's nuclear ambitions and destabilizing activities."
The announcement came just a day after Japanese Foreign Ministry informed that North Korean-flagged tanker Rye Song Gang 1 was spotted by Japanese maritime patrol plane in a suspected illegal transfer of goods with a Dominican-flagged tanker Yuk Tung.
Rye Song Gang 1 was blacklisted by the Trump Administration in November 2017 together with 19 other North Korean-flagged ships for engaging in illegal ship-to-ship transfers in an effort to evade sanctions.
Sanctions have been imposed on the country's shipping industry, trade, ports, and manufacturing, as part of an economic pressure aimed at cutting off sources of revenue that would support the development of North Korea's nuclear program. 
Copyright Ships & Ports Ltd. Permission to use quotations from this article is granted subject to appropriate credit given to www.shipsandports.com.ng as the source.