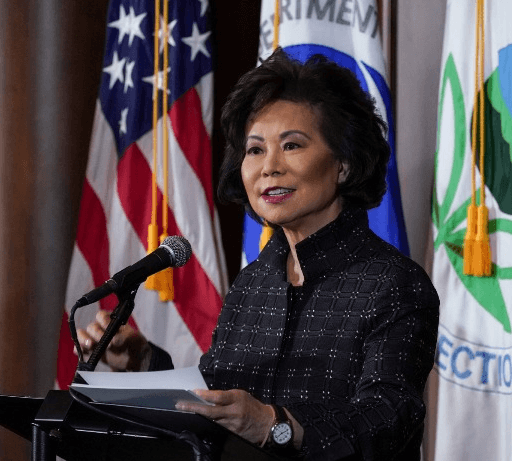 United Seamen's Service has awarded its prestigious 2019 Admiral of the Ocean Sea Award (AOTOS) to U.S. Secretary of Transportation Elaine L. Chao in recognition of her career-long commitment to the maritime industry.
The award was presented at the 50th annual AOTOS gala on Friday in New York City.
Born in Queens, New York, Chao earned her MBA from Harvard Business School and subsequently specialized in transportation financing in the private sector. She began her executive career in public service working on transportation issues at the White House, serving as Deputy Maritime Administrator, U.S. Department of Transportation; Chairman of the Federal Maritime Commission; and, Deputy Secretary of the U.S. Department of Transportation.
Secretary Chao assumed her current office on January 31, 2017. She was previously Secretary of Labor under President George W. Bush. She has also served as Director of the Peace Corps and later as President and CEO of the United Way of America.
"Secretary Elaine L. Chao has worked hard to advance the U.S. maritime industry.
"Secretary Chao has been a staunch defender of the U. S. flag merchant marine fleet.  She has defended the budget of the Maritime Administration, and many of its policies in the interagency process. Today, we congratulate Secretary Chao on receiving the Admiral of the Ocean Sea Award which is recognized as one of the most prestigious awards in the maritime industry," the Administrator of the Maritime Administration, Rear Admiral Mark H. Buzby, said. 
As Secretary of Transportation, Chao helped secure funding for the National Security Multi-Mission Vessels, the first new purpose-built training ships for the United States in nearly 50 years. In December 2018, DOT's Better Utilizing Investments to Leverage Development (BUILD) grants directed over $230 million for projects to benefit America's ports. In 2019, Secretary Chao announced nearly $20 million in Small Shipyards Grants for 28 U.S. small shipyards and announced nine new Marine Highway Projects that were eligible to apply for $7 million of Marine Highway grants.
"I am honored to have my work over the years recognized by such a distinguished organization and audience. I understand very well the sacrifices that merchant mariners experience. The men and women in this industry are heroes; I am proud of them and work hard to support them," said U.S. Secretary of Transportation Elaine L. Chao.
The AOTOS Award commenced in 1970 and has honored more than 80 industry leaders. 
Copyright Ships & Ports Ltd. Permission to use quotations from this article is granted subject to appropriate credit given to www.shipsandports.com.ng as the source.