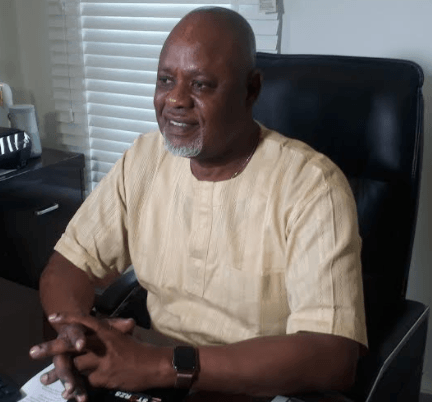 Foremost indigenous shipowner, and Chairman, Starzs Investment Company Limited, Engr. Greg Ogbeifun, in this interview with Shulammite 'Foyeku, speaks on challenges hindering the development of shipping in Nigeria. He also bares his mind on the proposed implementation of the IMO sulphur regulation on emissions from ships, which would come into force in January 2020, among other sundry issues.
Excerpts.
There are on concerns among shipowners on the proposed implementation of the International Maritime Organization (IM0) sulphur regulation on emissions from ships, which is to take effect from January 1, 2020, especially as it would impact on cost of shipping. What are your thoughts on this?
It is the desire of the world to begin to pay attention to our environment. We are now talking about the blue ocean; which has to do with the sea. Up till now, the environmental issues had been limited principally to land. Now, we are going to the air. A lot of emissions in the atmosphere had been hazardous to mankind forever. There are different emissions by generators in your compound, from your cars, from the factories, and now from the ship. You control the emission from the ships on our waters and meanwhile, our trucks on the roads, our factories, our generators, our industries are pumping and pushing worst pollution into the atmosphere. Charity begins at home. As a nation, we cannot jump at IMO's regulation without ensuring that jumping at such regulation we will achieve the desired results. So, alongside considering IMO, we should also start by identifying our national and domestic activities that are contributing towards environmental pollution through emission, or else, we are achieving nothing. Most of the things we do here don't meet average international standards in terms of environmental control. If you go to London, where IMO is headquartered, their vehicles, factories are already regulating their emission; their trashes are effectively being disposed off, no open defecation in their waters and there is no form of pollution of their rivers. So, it makes sense for them to begin to think of controlling the sulphur content of the fuel ships are burning and it is the right thing to do. However, we need to also look at the condition of the ships. Some of these ships are a couple of decades old, although in our case, we have no global trading ships anywhere. So we are talking about ships coming out of the country into our ports. So the onus is on them to regulate and control the type of fuel they are burning. So we should not worry about IMO 2020 regulations because principally it is affecting foreign ship owners.
Why is it difficult for Nigeria to have a global trading ship?
I am aware that you know about the ministerial committee on national fleet. I am in that committee and we have been in existence since forever. The objective of that committee is to answer your question. However, this country does not have an enabling environment for the establishment of a global trading ship. For Nigeria to have a global trading ship, our tax laws must first be reviewed, we have to urgently restructure our national registry and our flag administration, and there has to be a genuine desire by government to support private sector initiative to go into global trading. For example, I have decided to singularly establish a Nigerian crude oil tanker fleet, knowing all the challenges that we have identified. I am not going into it because I want to set up a business; but because I want to highlight the possibility, the benefits and the challenges for government to understand what we stand to gain when we address some of the impediment hindering shipping development in the country. One of the things one would expect our flag administration to be doing already is identifying where in the world we are likely to trade and engaging the maritime administrations to accredit their surveyors to work on behalf of the Nigerian flag. If I am going to buy a crude oil tanker now, which we will do by the grace of God, and I am flagging it Nigeria, register it in Nigeria, I have to pay full duty. Our committee did a global study and we found out that in all key maritime nations, if you own a national company, and you bought a maritime asset, and you are flagging it for your country, it is zero duty. Why do they do that? It is because these are capital intensive businesses, they do that to help you pay your loan, run the business, they make it tax free, you don't pay any form of national tax for five years to help your cash flow to be able to make you succeed. But what is happening here? Even when you have no business and your ship is in the port with no contract, they put a noose on you and at the end of the day, you abandon the ship; sack all the workers and you are looking for how to survive alone. That is why the country is where it is. So there has to be a deep desire by our policy makers and those in authority to understand these things. Yes, government is looking for money but if you kill all the businesses that money will never come but if you encourage the businesses to grow, the economy will grow and that is the only way we are going to get out of the quagmire.
What is your view on the secure anchorage area recently abolished by the Nigerian Ports Authority (NPA)?
Every country has got its own laws and as much as possible we must all operate within the laws of the land. Does our law allow for the safe anchorage that has been in operation for years? I don't think so. So I believe it is on that premise that NPA has taken their position. I want to believe NPA took that position on behalf of the shipowners who use the anchorage. Every ship has to pay $2,000 daily. That is a huge element cost to be borne by the shipowner and the ship operator. If stopping that dedicated safe anchorage is going to safe the shipowner approximately $60,000 per month, then I think what NPA has come up with is commendable. Having said that, I will like to believe that the NPA is a responsible government agency. They must have thought it through why in the first place a dedicated private safe anchorage was put in place. There must have been concerns about the safety and security of vessels on the anchorage. So, NPA must know that if they stop that, you are now exposing ships to unsafe environment. But they said they are now engaging with the Nigerian Navy to improve the safety and security of our waters of the general anchorage. So instead of encouraging the private sector initiative, let us see how we can encourage these government platforms and agencies to up their ante to be able to do the job and I think NPA, Navy and NIMASA are not folding their hands. They are doing something in that direction. Let us encourage them to do it. It is better that shipowners contribute in any way they can to make the government platforms workable than the private initiative.
Many analysts identified financing as a major challenge facing indigenous shipowners as banks are not willing to give out long term loan to finance their business. What has been your experience in this regard?
Are you aware that I commissioned a ship last year? It cost me $18.8 million. Do you think the money came from my pocket? A Nigerian bank financed it. So I cannot say that Nigerian banks are not willing to give out loans. If you are a shipowner and you meet the requirement for funding, Nigerian banks are ready to fund you; people are buying and building ships. But if you have failed in a business line, you left it and want to go into shipping or you have taken a facility in one bank, it went bad and you want to go to another bank, they will do their due diligence whether you are eligible for such loan or not.
The transport sector was allocated N123 billion in the 2020 budget.  Do you think that amount is enough to revive the sector looking at the challenges it is presently contending with?
It cannot be enough but it is just a budget for one year. You cannot solve the entire problem in one year. So we need to first prioritize, and then in the priority list, you address what the budget can implement and leave the rest. However, I do not think the Transport Ministry needs money to affect our lives. Transport Ministry needs to be the advocate to create the enabling environment for our sector to grow. We need a Minister that can go to the Federal Executive Council with a list of what we have been talking about. He should let them know that shipping and the maritime industry don't need money but for the government to create the enabling environment. That is the huge benefit that will affect our sector. So we need to begin to look at the bills that can help address some of these challenges and let government drive the bill. That is what we need, not the money.
Copyright Ships & Ports Ltd. Permission to use quotations from this article is granted subject to appropriate credit given to www.shipsandports.com.ng as the source.