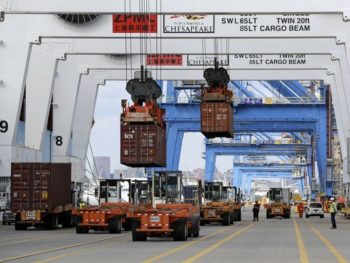 A burst of United States exports of soybeans, commercial aircraft and other goods drove the American trade gap to its lowest level in 18 months in May, the government reported Friday.
As Washington embarked on a multi-front trade war, the US trade deficit fell 6.6 percent to $43.1 billion in May due to all-time record exports.
There were signs firms tried to ship products out before retaliatory tariffs from China took effect Friday.
The new figures were released just hours after President Donald Trump unleashed a $34 billion barrage of border taxes targeting Chinese industries that US officials say have benefited from the alleged theft of American intellectual property.
China immediately retaliated, marking the start of what Beijing called the largest-ever trade war.
Within the numbers, there also were signs importers bumped up their purchases in anticipation of looming tariffs.
Total exports rose nearly two percent to a record $215.3 billion, much faster than the 0.4 percent jump in imports to $258.4 billion.
Exports of goods rose to their highest on record of $144.2 billion, supported by all-time record shipments of foods and feeds, including a $2 billion jump in soybeans which are the subject to tariff threats in the huge Chinese market.
There was confusion over what products Beijing authorities have targeted for retaliation against Trump's offensive, but they said they planned to slap punishing duties on the US soy industry, which is heavily dependent on the Chinese and Mexican markets.
Despite the dip in the US trade deficit, the trend remained little changed, with the gap up nearly eight percent year-to-date compared to the first five months of 2017.
And the US trade gap with China crept higher, rising $1.2 billion to $32 billion.
Americans imported $43.7 billion in goods from the largest US trading partner, $1.8 billion more than in April, but exported only $11.7 billion, $600 million more than the prior month.
Elsewhere, total petroleum exports rose to $14.3 billion, the highest since December 2013, while non-petroleum exports also hit an all-time high of $130 billion.
Trade with countries currently locked in battle with Trump also was robust: exports to Mexico were $22.7 billion, a record; while imports from Canada were the highest since December 2014 at $28.8 billion.
Agency Report