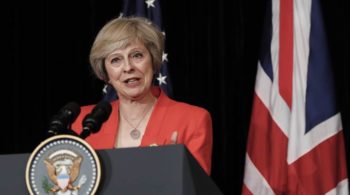 Britain agreed on Monday to keep Northern Ireland in "regulatory alignment" with the European Union after Brexit, Irish government sources said, raising hopes Prime Minister Theresa May can strike a deal in Brussels to start free trade talks.
After intensive negotiations in recent days, Britain made what the Irish sources called a clear commitment to keep economic rules on both sides of the new UK-EU land border across the island of Ireland similar enough to allow no frontier.
That is seen as a key way to avoid customs and other infrastructure which might jeopardize the peace in Northern Ireland. How far Britain would then be permitted to change rules on the mainland as Brexit supporters want was not immediately clear. May and her Northern Irish allies want no new regulatory barriers erected between the province and the rest of the United Kingdom.
"Agreement has been reached on an overall deal for the Irish issues," one of the Irish government sources said.
"The key phrase is a clear commitment to maintaining regulatory alignment in relation to the rules of the customs union and internal market which are required to support the Good Friday Agreement, the all-island economy and the border."
Irish Foreign Minister, Simon Coveney said he hoped to make a positive statement shortly, adding that British-EU negotiations on post-Brexit trade would start and that the Irish border would not change its physical appearance after Britain leaves the EU.
European Commission President, Jean-Claude Juncker spoke to Irish Prime Minister, Leo Varadkar by phone. EU lawmaker Philippe Lamberts, who met Juncker earlier on Monday, said the draft text on Ireland would commit Britain to "full alignment" on rules.
The EU summit chair, Donald Tusk tweeted ebulliently after speaking to Varadkar that there was good progress on the Irish issue to unblock UK-EU trade talks: "Tell me why I like Mondays!" the former Polish premier wrote. "Getting closer to sufficient progress at December (EU summit)."
This is code for Britain complying with a set of conditions the EU wants met on divorce terms before leaders will agree to launch talks on a future trade deal at a summit next week.
May and Juncker made no comment to reporters when they met at the EU executive's Berlaymont headquarters for a lunch that diplomats and officials hope can seal a breakthrough that would open the way to negotiations on future trade relations.
Tusk canceled a trip to Jerusalem and Ramallah and hastily scheduled his own meeting with May for after lunch. Officials said he was preparing to call round EU leaders to get agreement on trade negotiations. National envoys handling Brexit were also summoned urgently to a meeting in Brussels later on Monday.
London has broadly agreed to many of the EU's divorce terms, including paying out something like €50 billion. But the issues of the rights of expatriate citizens and the UK-EU border on the island of Ireland defied a deal until the last minute.
Elmar Brok, another member of the European Parliament who met Juncker and his Brexit negotiator, Michel Barnier, before they met May, said "just a few words" separated the sides.
In London, May's spokesman said: "Progress is being made. There's more still to agree upon." 
Copyright Ships & Ports Ltd. Permission to use quotations from this article is granted subject to appropriate credit given to www.shipsandports.com.ng as the source.