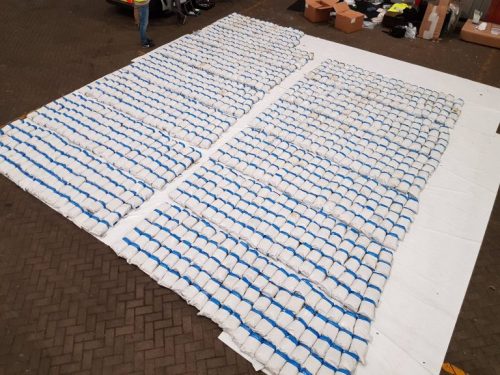 UK authorities have seized a record 1.3 tonnes of heroin from a containership at the Felixstowe Port following an international investigation.
The hard drug was recovered from the Maersk-operated containership, Maersk Gibraltar, in an operation on Friday August 30.
The UK National Crime Agency (NCA) said the seizure represented the largest ever seizure of heroin in the country.
"We cooperate openly and proactively with all relevant authorities," a Maersk spokesperson said, confirming the seizure of the illicit drug aboard the 10,000 TEU Maersk Gibraltar. 
The seized narcotics are estimated to be worth around GBP 27 million (USD 32.9 million) at wholesale and in excess of GBP 120 million (USD 146.4 million) at street level.
The boxship arrived at Felixstowe on August 30 and was searched by officers from the UK Border Force and the NCA. They found a total of 1,297kg of the substance concealed among a cover load of towels and bathrobes.
After officers removed the drugs, they returned the container to the vessel, which continued on to Antwerp and docked in the Belgian port city on September 1.
Under surveillance by Dutch and Belgian law enforcement agencies, the container was driven by lorry to a warehouse in Rotterdam, the Netherlands. Upon arrival, officers moved in and arrested four people who were in the process of unloading the consignment.
"This is a record heroin seizure in the UK and one of the largest ever in Europe," Matt Horne, NCA Deputy Director, Investigations, said.
"It will have denied organised crime tens of millions of pounds in profits, and is the result of a targeted, intelligence-led investigation, carried out by the NCA with international and UK partners."
"The smugglers had hidden the drugs within a coverload of towels, stitching the 1kg blocks of heroin inside some of the towels," Jenny Sharp, Border Force Assistant Director at Felixstowe, said.
"In total it took my officers nearly six hours, working in the early hours of Saturday morning, to remove the drugs."
Copyright Ships & Ports Ltd. Permission to use quotations from this article is granted subject to appropriate credit given to www.shipsandports.com.ng as the source.