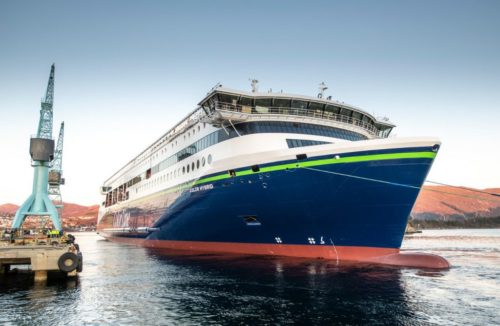 Norwegian shipbuilder Ulstein has launched the world's largest plug-in hybrid ship at its Ulstein Verft.
Color Hybrid, being built for cruiseferry company Color Line, was launched on April 14, 2019, and will undergo further outfitting before its delivery this summer.
The ship's assembly started in April 2018 in Gdynia, Poland. After seven months of construction, the hull was towed to Ulsteinvik, Norway, for detail work.
The 160-meter roll-on/roll-off passenger (RoPax) vessel will be put to service between Sandefjord, Norway, and Strömstad, Sweden. It will be capable of carrying 2,000 passengers and 500 cars.
Color Hybrid will almost double the capacity of M/S Bohus, which is scheduled to be phased out when the new ferry launches into operation.
Being a plug-in hybrid, Color Hybrid will be able to switch to batteries on parts of its journey.
Ulstein says that the vessel would have very low noise levels in this mode and no local harmful emissions. The batteries will be recharged via shore connection in Sandefjord.