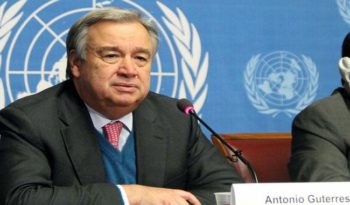 UN Secretary General, Antonio Guterres, told the General Assembly that despite the fact that countries have the right to control their own borders, the rights of refugees and migrants must be protected.
Guterres said that with a global sharing of responsibility the number of refugees on the move in the world could be managed. 
"I myself am a migrant, as are many of you. 
"However, no one expected me to risk my life on a leaky boat or cross a desert in the back of a truck to find employment outside my country of birth," he said.
In another development, Guterres said that the fear of nuclear peril was not abstract. 
"We must not sleepwalk our way into war with North Korea", UN chief Antonio Guterres said in his first speech at the UN General Assembly. 
He condemned Pyongyang's nuclear tests and urged all members of the UN to comply with Security Council resolutions against the country. 
He said, "Only continued unity in the UN Security Council can lead to the denuclearisation of the Korean Peninsula and create the opportunity for diplomatic engagement with Pyongyang. 
"When tensions rise, so does the chance of miscalculation. 
"Fiery talk can lead to fatal misunderstandings, the solution must be political. 
"This is a time for statesmanship, we must not sleepwalk our way into war."
Talking about climate change, the UN envoy said that the science of climate change is "unassailable" as he urged countries to "get off the path of suicidal emissions." 
Guterres reiterated his message to global leaders to implement the Paris Agreement "with ever greater ambition". 
"I stand in solidarity with the people of the Caribbean and the U.S. who have just suffered through Hurricane Irma, the longest-lasting Category five storm ever recorded. 
"The U.S. followed by China, India, the Philippines and Indonesia, have experienced the most disasters since 1995 more than 1600, or once every five days. 
"We have had to update our language to describe what is happening: we now talk of mega-hurricanes, superstorms and rain bombs. 
"It is high time to get off the path of suicidal emissions, we know enough today to act and the science are unassailable,'' Guterres said.