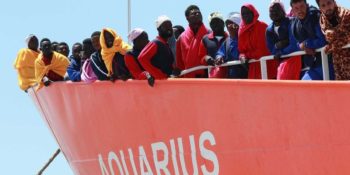 Medical humanitarian NGO Médecins Sans Frontières (MSF) and its partner SOS Mediterranee announced that they would terminate the operations of their search and rescue vessel, the MV Aquarius.
The decision comes in the wake of allegations that Aquarius was involved into alleged unclassified disposal of onboard waste and claims that the charterer illegally profited from the said activities.
Due to the criminal charges, the Italian court has ordered the ship to be seized and the vessel has spent the past two months in port unable to render assistance to refugees and asylum seekers on one of the world's deadliest migration routes.
Earlier this year, the ship was stripped of its registration license on two occasions, in what the NGOs described as orchestrated campaign by the Italian government, backed by other European states.
"Not only has Europe failed to provide search and rescue capacity, it has also actively sabotaged others' attempts to save lives. The end of Aquarius means more deaths at sea, and more needless deaths that will go unwitnessed," the General Director of MSF, Nelke Manders, said. 
"Let's be clear about what that success means: a lack of lifesaving assistance at sea; children, women and men pushed back to arbitrary detention with virtually no hope of escape; and the creation of a climate that discourages all ships at sea from carrying out their obligations to rescue those in distress," Head of MSF's emergencies, Karline Kleijer, added.
Since the start of its search and rescue mission in February 2016, the Aquarius has assisted nearly 30,000 people in international waters between Libya, Italy and Malta, according to MSF.
The Aquarius' last active period of search and rescue ended on October 4, 2018, when it arrived in the port of Marseille following the rescue of 58 people.
Copyright Ships & Ports Ltd. Permission to use quotations from this article is granted subject to appropriate credit given to www.shipsandports.com.ng as the source.