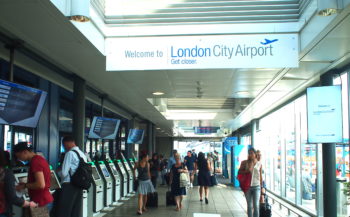 All flights between Dublin and London City Airport have been cancelled after an unexploded World War II bomb was found in the River Thames near the runway.
London City Airport has been closed and passengers on scheduled flights to and from the airport have been advised to contact their airline.
All British Airways and CityJet flights to and from Dublin to the airport have been cancelled.
However, CityJet is operating an alternative schedule to and from London Southend Airport.
The device was found yesterday and a cordon put up late last night after discussions between the navy and the police.
Police set up a 214-metre exclusion zone to decrease risks to the public while the device was dealt with.
The airport, which sits inside the exclusion zone, was closed and the Metropolitan Police said properties nearby were evacuated.
Scotland Yard said the device is a 500kg tapered-end shell, about 1.5m long, which is lying "in a bed of dense silt and the first stage of the removal operation is to free the shell from the silt so that it can be floated for removal".
Police said the timing of the removal is dependant on the tides and it is expected that the operation will be completed by tomorrow morning.
London City Airport CEO, Robert Sinclair said: "I urge any passengers due to fly today not to come to the airport and to contact their airline for further information.
"All flights in and out of London City on Monday are cancelled and an exclusion zone is in place in the immediate area.
"I recognise this is causing inconvenience for our passengers, and in particular some of our local residents.
"The airport is cooperating fully with the Met Police and Royal Navy and working hard to safely remove the device and resolve the situation as quickly as possible."
London City Airport is the 14th busiest in the UK with 4,540,000 passengers in 2017, according to data from the Civil Aviation Authority.
Newham Council said that some residents had refused to be evacuated.
In a statement, the council said: "Officers are assisting with a controlled evacuation of people in this exclusion area. Affected at this stage are parts of Holt Road, Leonard Street, Lord Street, Newland Street, Tate Road, Muir Street and Kennard Street.
"Some residents have chosen to remain in their homes and others have made arrangements to stay with friends or family. A rest centre has been opened and Transport for London are ferrying people to it
"Work will not start on lifting and removing the device until the initial 214-metre zone is clear. When work starts to remove it, it is expected the exclusion zone will be extended to 250 metres and more properties will need to be evacuated".
Agency Report