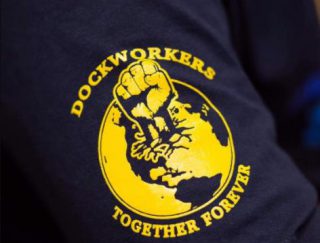 The International Dockworkers Council (IDC) has called for the unconditional release of the 20 sacked, fined and arrested dockworkers at the Port of Cotonou (PAC), Benin before and on May 11.
On Friday, May 5, SYNFOMAP-BENIN, a movement of dissatisfaction paralyzed all activities at the Autonomous Port of Cotonou from 3 pm to midnight, as informed by IDC.
The protest came following a conflict between the port workers and their employer the Beninese Port Handling Corporation (SOBEMAP).
"The conflict resulted from the observations alluding to the workers´ refusal to comply with the recommendations put forth by SOBEMAP to improve the living and working conditions of dockworkers, and in the Synthesis Report of the Working Committee (SOBEMAP-UNIONS Dockers), decided by the Minister who had visited Ports in Côte d'Ivoire and Senegal in December 2016 to draw inspiration from the working conditions and management of the dockers of these countries," IDC said.
As explained by the union, the port workers are faced with the lack of regulation of their trade, precarious jobs with a derisory income level of Euro 3.50 per work week, and a high mortality rate: 70 fatalities were reported in the first quarter of 2017.
The International Dockworkers Council described the workers' demands as legitimate, voicing their unwavering support, and demanding that the imprisoned workers are released unconditionally and that SOBEMAP reinstates dockers licensed in their rights.
"We call for the opening of a constructive dialogue between the port authorities, the employer SOBEMAP and SYNFOMAP," the union said.
"At the international level, IDC remains attentive to the developments of this case. The solution to the conflict necessarily involves social dialogue."
According to the Maritime Union of Australia Sydney Branch, that addressed the Embassy of the Republic of Benin on behalf of IDC, the arrests by the local authorities are also believed to be connected to the participation of workers in an IDC meeting.
"All efforts by the IDC to reach out to the local authorities on behalf of these 20 dockworkers have been ignored. For this reason we ask you to contact the Government of Benin to demand intervention on behalf of these 20 workers," the MUA branch said in a letter.
Should the government fail to react, the union said it would organize industrial action in all ports in Benin.
"We hope you will take efforts to make sure this extreme situation is avoided, and help us seek a good situation for all," the letter further reads. 
Copyright Ships & Ports Ltd. Permission to use quotations from this article is granted subject to appropriate credit given to www.shipsandports.com.ng as the source.