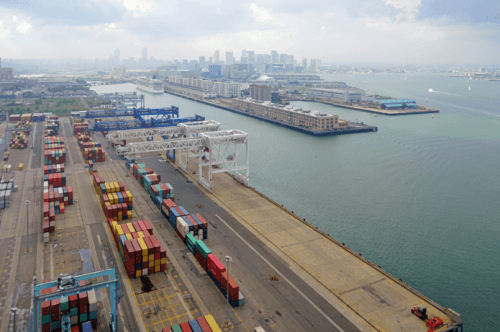 The Massachusetts Port Authority (Massport) will receive a USD 20 million grant from the US government for the upgrade of the Port of Boston's Paul W. Conley Container Terminal.
The funding for the Conley Terminal Container Storage and Freight Corridor project is part of the USD 900 million investment in American infrastructure announced by the US Department of Transporation on November 12, 2019.
"The Administration is targeting BUILD Transportation grants to repair, rebuild, and revitalize significant infrastructure projects across the country," said US Secretary of Transportation Elaine L. Chao.
Conley Terminal is the only full-service container terminal in New England. In FY2019, Conley Terminal set a new record in cargo volumes for the fifth consecutive year when it handled 307,331 twenty-foot equivalent units (TEUs), an 8% increase over FY2018.
A few years ago, Massport unveiled a massive investment program in an effort to keep Conley Terminal competitive.
Under the program, one of the major infrastructure projects is the Boston Harbor Dredging Project. The maintenance dredging of the inner harbor was completed in December of 2017. The deepening of the main ship channels began in July 2018, aiming to enable the terminal to accommodate large container vessels. According to Massport, the project is 64% complete, with over 7.4 million cubic yards removed to date.
Earlier this month, the terminal received two new rubber-tired gantry cranes (RTGs), increasing the number of RTGs at Conley Terminal to sixteen. In addition, Massport ordered three new ship-to-shore cranes, which are 160 feet high with an outreach of 22 containers wide, to be delivered in late 2020.
Apart from the new ship-to-shore cranes, Conley Terminal improvements include the construction of two 50-foot berths, expanded reefer storage, and new in-and-out gate facilities.
Following the completion of the infrastructure buildout, the terminal is expected to be able to handle vessels in the 12,000-14,000 TEU range.