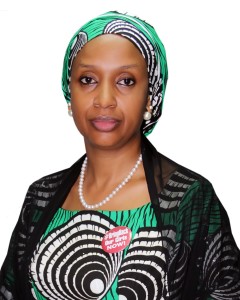 The Managing Director of the Nigerian Ports Authority (NPA), Hajia Hadiza Bala Usman has urged all NPA workers to change attitude to work and deepen commitment to the vision and mandate of the port authority.
Usman said this while speaking at the long service award ceremony held at the Authority's sports ground, Surulere, Lagos in honour of 664 NPA workers at the weekend.
While thanking the workers for the roles in shaping the NPA, Usman noted that the process of port reforms took its toll on the organisation but has become a clear success story today.
The NPA boss who was represented at the occasion by the Executive Director, Finance and Administration, Mohammed Bello-Koko assured the workers of the present management's resolve to improve their welfare.
She said, "Your resilience in the face of the prevailing challenges during the period of concession and afterwards is quite commendable and has paid off in greatly improved productivity.
"It is gratifying to note that in 2005, before the concession, cargo throughput was 45 million metric tons, while in 2015, it improved to 78 million metric tons. Port infrastructure has also undergone significant improvement, which has resulted in bigger ships with larger cargo capacity calling at our ports and consequently improving our revenue.
"Our goal is not to lose sight of our focus on continuous improvement. By continuously challenging ourselves and striving to deliver quality service, on time and within budget across all levels, we will continue to pave way towards a prosperous and sustainable future for NPA."
She noted that dedication by the workers has led to great results including a friendly level of compliance with the implementation of the International Ship and Port facility Security (ISPS) Code.
"As a result, port security has improved and has earned us commendations by the US Coast Guard. Similarly, the organisation has advanced in its automation process which has improved our efficiency. All these can be directly linked to dedication to duty by our highly educated and experienced workers," she stated. 
NPA workers numbering a total of 664, were awarded for putting in between 25 and 30 years in service as at 2012/2013. Some of the awardees included the General Manager Marine and Operations, Captain Iheanacho Ebubeogu.