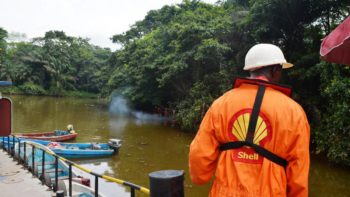 The Elembiri communityin Gbanraun, Bayelsa State, which was affected by the Seibou II oil leak in 2015, said they are yet to receive any relief materials to cushion the effect of the spill.
The victims of the spill said on Sunday in Yenagoa that none of them received relief materials from anyone.
The spill from Seibou oilfield, owned by Shell Petroleum Development Company (SPDC), discharged about 550 barrels of crude into the Ogboinbiri River.
SPDC's spokesperson, Joseph Obari, had said that the oil firm sent some relief materials to people impacted by the spill from Seibou Well II head.
But the leader of Elembiri community, Festus Konbofa, said the victims of the oil spill did not receive any relief material from Shell.
"We are SPDC's immediate host. Seibou Well II is on my land and the creeks so polluted are in our community.
"So, if they claim to have sent relief items, chances are that they were diverted and taken elsewhere.
"I am also part of the community leadership and we crosschecked with one another and I can confirm that nothing came in.
"It is very unfortunate that they neglected payment of compensation to the impacted community even when the regulators recommended so.
"We have resolved that we shall not allow them to work until they tell us who they gave the materials.
"Unfortunately for us, the facility has not been producing for a while now," he said.
Konbofa accused the Anglo-Dutch oil giant of evading payment of compensation for the pollution which, according to him, was caused by equipment failure.
The National Oil Spills Detection and Response Agency (NOSDRA) had recommended payment of compensation by SPDC to the affected residents.
NOSDRA Director-General, Peter Idabor sad, "Our assessment of the Seibou Well 2 facility leak of January 23, 2015 at Ogboinbiri, Bayelsa, confirmed that the cause of the leak was equipment failure.
"The assessment showed that the volume of crude discharged was 549 barrels.
"The joint investigation visit was conducted on February 10, 2015 by NOSDRA officials from our Warri office.
"Our Port Harcourt office did the assessment and recommended payment of compensation, based on the impact of the spill. There is no status report on the compensation," Idabor had said.
Copyright Ships & Ports Ltd. Permission to use quotations from this article is granted subject to appropriate credit given to www.shipsandports.com.ng as the source.