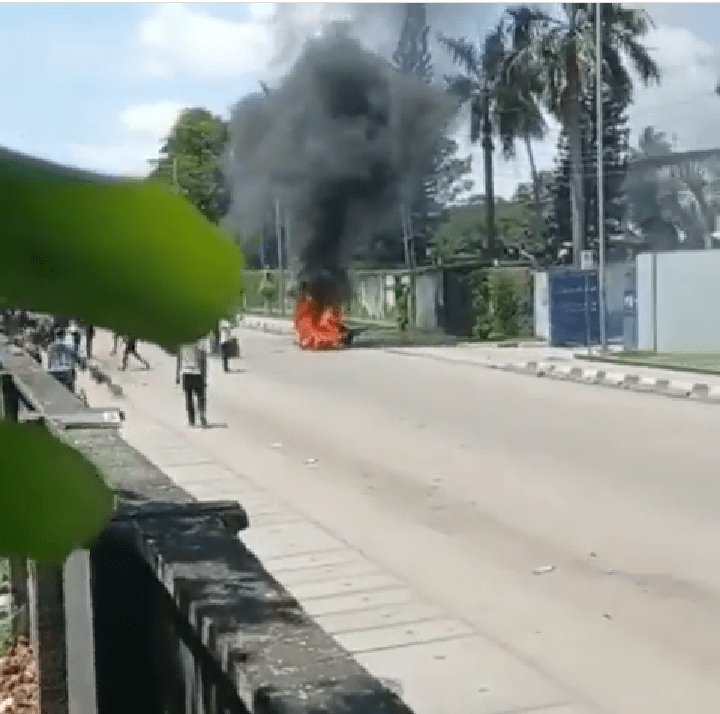 The Lagoon Hospital located on Liverpool Road, Apapa, Lagos, was attacked by angry #EndSARS protesters on Tuesday. 
The attackers had stormed the hospital for reportedly refusing to treat an injured protester, who eventually died. 
It was gathered that the victim with fresh gunshot wounds was dumped in front of the hospital building by an unknown person.
The hoodlums thereafter accused the hospital management of abandoning the male victim without providing treatment for him.
The hoodlums went on a rampage and vandalised the hospital facility.
In viral video, a bonfire was seen in front of the hospital building while huge plumes of smoke billowed into the sky around the facility.
Lagoon Hospitals confirmed the development in a statement signed by its Chief Executive Officer, Dr. Jimi Coker but denied that it refused to attend to the victim.
Lagoon Hospital at Liverpool Roundabout, Apapa, set on fire by #EndSARS protesters on Tuesday.
Coker said, "It has come to our attention that misinformation is currently circulating on social media regarding the true events that led to the vandalisation of our Apapa Hospitals, putting the lives of staff and patients at risk.
"The victim was unfortunately brought in dead by an Okada man who decided to abandon the victim's body outside the hospital premises.
"Lagoon Hospital in Apapa was not aware that the Okada driver had abandoned the victim on the road.
"It is on record that Lagoon Hospitals has always attended to all emergency cases, in line with our access to care policy for over 30 years.
"Unfortunately, we have had to shut down the hospital in Apapa due to this attack."
The #EndSARS protests rocking the country have continued for almost two weeks with youths calling for a lasting reform of the Nigeria Police Force and of the polity.
All entreaties by politicians and business leaders for the youths to leave the streets failed as they block major highways, thereby, causing gridlock and affecting economic activities.
On Tuesday, Lagos State Governor, Babajide Sanwo-Olu, imposed a 24-hour curfew on the state. 
Copyright Ships & Ports Ltd. Permission to use quotations from this article is granted subject to appropriate credit given to www.shipsandports.com.ng as the source.