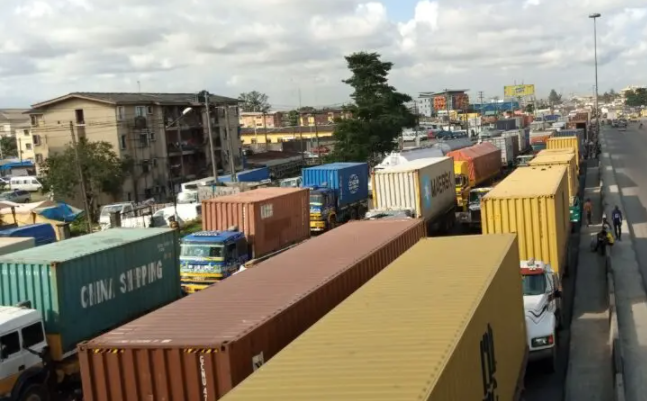 The Chairman, Apapa Local Government Area, Idowu Sebanjo, said many business entities have relocated out of the area because of traffic gridlock. 
Speaking on Wednesday at a conference on 'Retooling the Maritime Sector for Stronger Economic Growth' organized by Maritime Anti-corruption Network (MACN) and the Convention on Business Integrity (CBI), she also said that while a lot of revenue is realised from the port by the federal government, "none of this money" comes to the local government. 
"Since I resumed this office, I've come to understand that there is so much poverty. People are struggling and have no jobs in the port. In Apapa, revenue is an issue, unemployment is an issue. Millions and billions of money pass through my local government and none of this money is coming to the coffers of the local government. From eto, the Local Government is not receiving anything.
"Luckily for us, they have done some of our roads which is much better but the trailers are still there. People have invested so much money. Look at Shoprite, same thing with the Amusement Park where you can take your children. They have spent huge amount of money to build up the place but who is that parent that will say take my children to Apapa Amusement Park when the reality is that they are going to spend five hours on the road. 
"The miscreants you are seeing on the road; the money they are collecting on the road is more than what any employer is going to pay them. So, most of them are not ready to work. They have seen and tasted the kind of money that they are making on the road. Even they themselves will frustrate whatever it is that the government wants to do but if we have strict policies, people will fall in line eventually. 
"So, for me, I need help in my local government. In fact, no one wants to reckon with Apapa Local Government. When PSTT was inaugurated, I had to invite myself. I wasn't invited.
"I was in the Ivory Coast for a summit and hearing, oh Apapa, the richest local government in Africa, and I looked at them and said, how I wish it was so. I am not getting that kind of revenue and my internally generated revenue is dropping at every second. 
"And this is because people are leaving. Currently, economy in Apapa is down to 20% of what it used to be. It is bad. And if the government fails to get up and do something about the reform they talk about in the maritime industry, the host community cannot benefit anything. 
"Also, residents are leaving. People who have invested heavily into the ports are going. There are so many empty houses in Apapa. If you go to Creek Road, half of the houses there are empty and that is an industrial area in Apapa. Take a drive and have a look, you will discover all the companies have left," Sebanjo lamented.
The Executive Secretary, Nigerian Shippers' Council, Emmanuel Jime said smaller countries like Togo are deriving more value from their maritime industry than Nigeria. 
"According to United Nations Conference of Trade and Development, (UNCTAD), Togo with a population of about 8 million people and GDP of $7 billion had a throughput of 1.7 million in 2020, while Nigeria with a population of 206 million people, GDP of about $429 billion had a lesser TEU of 1.5 million in 2020. This is as a result of inefficiency in our port operations which led to diversion of Nigeria-bound cargoes to other neighbouring countries," he said. 
"Massive investment in infrastructure should be prioritised by government. And I keep saying it anytime I talk about the Lekki deep seaport; unless we maximise multimodal means of transportation, we will just have a replica of Apapa port. And it is going to be a tragedy. Rail linkage is a critical aspect we should explore.
"There is need for deliberate and conscious effort by the Federal Government and all relevant stakeholders in the industry to ensure that the right things are done for the sector to optimally contribute adequately to the GDP of the nation's economy and also ensure that Nigerian trade benefits from both the regional trade agreement and the continental trade agreement. 
Speaking earlier in his welcome address, the Co-Founder/CEO of Convention on Business Integrity, Soji Apampa, said, "The purpose of this conference is to examine the policies, practices, opportunities, and next steps in addressing the lingering challenges in port operations which affects all categories of stakeholders in the maritime sector, including a review of how to expand the current gains and systems reforms in sectors of the industry."