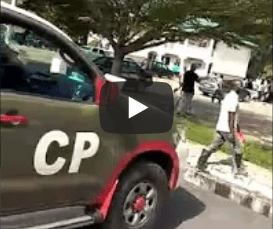 There was tension at the Nigeria Customs Service Command and Staff College, Gwagwalada, Abuja, as hoodlums attempted to invade the facility in the early hours of Tuesday.
A video which surfaced online showed there was sporadic shooting at the facility as Customs operatives make effort to disperse the hoodlums.
Three of the hoodlums were reportedly killed in the attack, which happened a day after residents in Yola, Adamawa State invaded and looted the Customs Command in the state.
Customs spokesman, Joseph Attah, confirmed both incidents but stated that the officers successfully repelled the hoodlums from gaining access into the Customs college.
He said, "The hoodlums were repelled by the officers. They could not gain entrance. However, the invasion of our facility at Adamawa was unfortunate.
"They (hoodlums) went to the warehouse and destroyed it and they now went to the Command's headquarters and then vandalised government properties and even some seized items that were kept there."