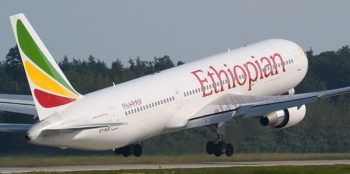 An aircraft belonging to Ethiopian Airlines has landed in the Nnamdi Azikiwe International airport in Abuja. The aircraft touched down some minutes past 12pm.
Firiehiwot Mekonnen, traffic and sales manager of the airline, had earlier told newsmen that the decision to fly the new aircraft to Abuja is because of the belief in the Nigerian market.
Ethiopian Airlines was the only foreign airline that made use of the Kaduna airport during the period that flights were diverted from Abuja.
The Abuja airport was closed on March 8 to enable repairs on its runway.
Earlier, Hadi Sirka, minister of state for aviation, joined a test flight from the Kaduna international airport.
Speaking with reporters at the Abuja airport, Sirika expressed delight that the facility got ready before the deadline
"Runway friction test, the final activity, concluded. Just landed on the runway, everything is perfect. We beat the deadline. We thank you," he tweeted.
"Abuja runway 100% completed and certified by Nigerian Civil Aviation Authority. Consequently the airport is open for operations. Thank u."