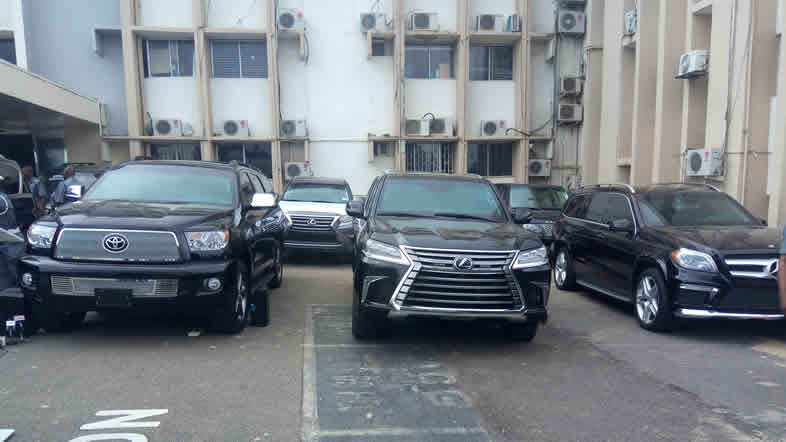 The Comptroller-General of Customs, Hameed Ali, said the compliance team of the service discovered 18 suspected smuggled exotic vehicles displayed for sale at a shop in Abuja.
Ali said this while addressing newsmen on the interception of the vehicles on Tuesday in Abuja.
He said that beyond non-payment of customs duty, 13 of the vehicles were bullet proof.
The Customs boss said that the service was enforcing the law on prohibition of smuggling, adding that possession of smuggled items was an offence.
According to him, the vehicles require clearance from the office of the National Security Adviser before importation.
"Based on credible information, the detachment of the compliance team visited the shop (name withheld) in Abuja and discovered the vehicles that were displayed for sales.
"In a period of fragile security, we cannot afford to have unauthorised persons use armoured vehicles without end user certificate and possession of these vehicles is illegal.
"For the avoidance of doubt, what we are doing is in line with the Customs and Excise Management Act (CEMA)," Ali said.
Ali said that the law gave customs power to search premises and to patrol freely.
He said that being in possession of smuggled items was an offence punishable under Customs and Excise Act.
The customs boss added that in two months, the service had stepped up its implementation of the Federal Government ban on importation of vehicles through the land borders.
Ali said that the re-invigorated anti-smuggling activities had yielded positive results in the past two months, adding that 265 vehicles were seized across the country.
"It is unfortunate that the service's zero stand on smuggling continue to expose unwillingness of most Nigerian importers to comply with the law.
"These unpatriotic elements willingly comply with the law of other countries but refuse to comply with our national guidelines on imports and exports.
"The policy of reward for good job and punishment for those who compromise will continue under my leadership," he added.
Ali said that high profile interceptions such as the testimonies showed the positive effects of ongoing reform activities in the service.
He said those who might want to test the service resolve to maintain the new tempo of aggressive anti-smuggling operations should be assured of the management readiness to sustain the tempo.
Ali added that the management would sustain the tempo and increase it by acquiring more working tools to boost effectiveness.
He said, "My experience in Customs has shown that a well equipped and motivated Customs officer can deal decisively with smugglers and smoke them out of their illicit business. I know that together we can win the war against smuggling."