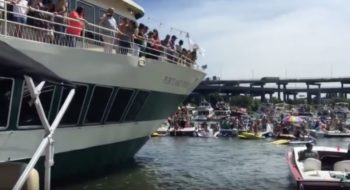 The captain of a Portland river cruise has had his Merchant Mariners Credential suspended for navigating his vessel through a crowd of watercraft attending an event on the Willamette River on August 1, 2015.
An administrative judge with the Coast Guard ruled Tuesday that Lowell Gillespie Jr., the captain of the Portland Spirit, had violated Rule 8 of the Inland Navigation Rules (COLREGs) for failing to take appropriate action to avoid a collision.
The incident occurred during a Red Bull Flugtag event that drew tens of thousands of spectators and hundreds of watercraft to the area, clogging up the river and blocking the Portland Spirit's regular route. The event was eventually shut down due to the size of crowd.
Video of the incident posted online shows the Portland Spirit navigating through the flotilla of boats, jet skis and kayaks as onlookers boo and even squirt water at the vessel.
The Red Bull event organizers were also issued a warning for underestimating the crowd size and blocking the waterway, and the Coast Guard shut down the event early at about 3 p.m. in the afternoon.
On Tuesday, a U.S. Coast Guard Administrative Law Judge ruled that Gillespie "should have recognized the likelihood of a large number of vessels impeding his normal route," and that "a higher sanction than the minimum one month penalty" was warranted, Coast Guard News reported.
The judge ordered Gillespie's Merchant Mariners Credential to be immediately suspended for one month and also placed the captain on 12 months of probation.
Gillespie has 60 days to appeal the ruling.
Portland Spirit is owned and operated by American Waterways, Inc. of Portland, Oregon.

Copyright Ships & Ports Ltd. Permission to use quotations from this article is granted subject to appropriate credit given to www.shipsandports.com.ng as the source.