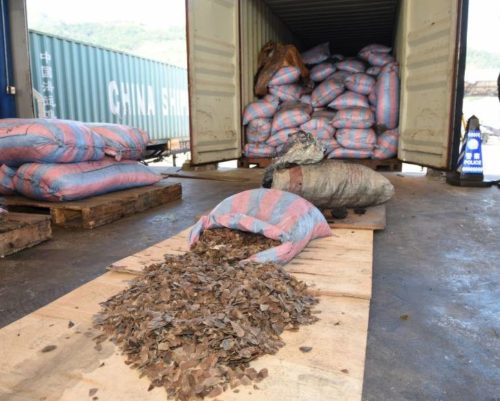 Vietnamese authorities on Friday said it seized more than eight metric tonnes of pangolin scales and ivory from Nigeria, in one of the Southeast Asian country's largest wildlife trafficking cases for years.
Trade in ivory and pangolin is illegal in Vietnam, but wildlife trafficking remains widespread.
Police found more than two tonnes of ivory and six tonnes of pangolin scales hidden in a plastic waste container at Tien Sa port in the central Vietnamese city of Danang on Thursday, the government said in a statement.
The container, owned by Vietnam's Thien Truong Su Co., originated from Nigeria, according to the statement. Calls to Nguyen Xuan Su, the company's general director, went unanswered on Friday.
The raid came days after authorities at Noi Bai International Airport in Hanoi said they seized nearly a tonne of ivory and pangolin scales hidden in cargo boxes, also sent from Nigeria.
The Director, Save Vietnam's Wildlife, Nguyen Van Thai, said pangolin trafficking has been on the rise over recent years.
"Most of pangolin scales seized in Vietnam originate from Africa and are bound for China, which is the bigger market" Thai told Reuters, adding that part of the shipments were for the Vietnamese market.
Thai said some Vietnamese people believe that consuming ground pangolin scales is good for their health, particularly for issues with the liver, bones, and for mothers to produce milk for newborn babies.
Agency Report