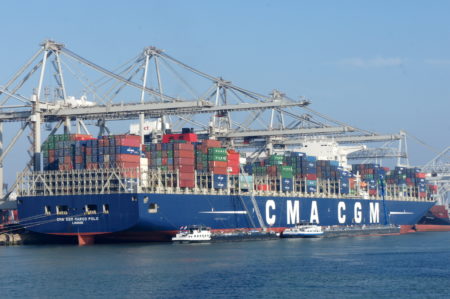 Cai Mep International Terminal (CMIT) handled the largest container vessel to ever call a Vietnamese port this month. The CMA CGM Marco Polo called at the terminal on January 11, 2019 as part of its FAL 3 Asia to Europe Trade Service.
Important guests, including senior government officials will attended the vessel maiden call's celebrations jointly organised by CMIT and CMA CGM at the Cai Mep terminal in Ba Ria Vung Tau Province.
CMIT is a deep-sea container terminal and market leader for global ocean carriers serving the South Vietnamese economy. Since 2018, CMIT operates with a license to handle container vessels up to 194,000 DWT which means the largest vessels currently sailing the world's oceans. Vessels are operated efficiently using the latest technology and development in Container Handling Equipment and IT systems capable of handling ultra large container vessels with thousands of container moves per single call.
CMIT is a joint venture between APM Terminals, Vinalines and Saigon Port and started operations in Cai Mep in 2011. Since its commencement, CMIT has proven a valuable partner to the largest container carriers, such as CMA CGM, connecting South Vietnam import and export to the global markets.
CMIT feels honored to be given the sole trust to handle the CMA CGM Marco Polo. It's a significant size vessel, the largest CMIT has ever handled, and we are privileged to have the confidence from the Ocean Alliance and CMA CGM to undertake the responsibility to operate this vessel safely, efficiently and quickly at our world class container terminal," said Jan Bandstra, CMIT General Director.
"As a key industry player, CMA CGM is fully mobilized to support Vietnam on its impressive path to rapid economic growth and will help shape its logistics and maritime infrastructures, through CMA CGM's global leadership position, knowledge and capabilities. We are confident that Vietnam will develop into a key international maritime and logistics hub in the coming years," said Bruno Gutton, General Director of CMA CGM Vietnam.
CMIT sees 2019 as another year of continued double-digit growth in container volume flowing through the Cai Mep-Thi Vai container terminals. The strong economic growth of the South Vietnamese economy and its increasing importance and connectivity to the global markets will also cascade to shipping lines deploying larger tonnage in the near future.
CMIT is grateful for the continued support of the Ministry of Transport, Vinamarine and Ba Ria Vung Tau province and other authorities in creating the right conditions for these megaships to call Cai Mep. For instance the dredging of the access channel back to 14 meters and its official certification ahead of the Marco Polo call shows the good cooperation and coordination between all parties involved thereby fostering the strong growth of the port sector in Cai Mep.
Source: APM Terminals