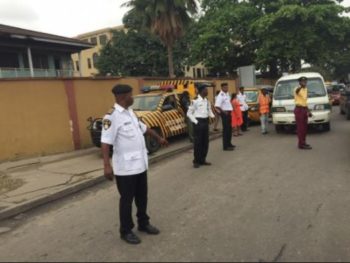 The Lagos State Vehicle Inspection Officers (VIOs) and the Lagos State Traffic Management Agency (LASTMA) have impounded 78,567 vehicles on Lagos roads in the last one year for violating the state's road law.
The VIO, LASTMA and the Motor Vehicle Administration Agency (MVAA) also generated the sum of N11.35 billion as fines, road worthiness certificates and issuance of drivers license and documents in the last one year.
Acting Commissioner for Transportation, Prince Anofiu Elegushi disclosed this on Tuesday at a ministerial press conference in Alausa, Lagos. 
A breakdown of the revenue showed that the VIO generated N2.48 billion, comprising road fines of N856.746 million and issuance of road worthiness certificate at N1.627 billion.
LASTMA generated N743 million while the MVAA raked in N8,125 billion.
According to Eleguhi, "the combined contribution of both Agencies represents 0.6% of the state's annual revenue portfolio. By implication this cannot justify such claims that our enforcement effort is to generate revenue," he said.
Also, a breakdown on the number of the 78,567 vehicles impounded showed that VIOs impounded 68,101 vehicles while LASMA impounded 10,466 vehicles in the last one year during their enforcement.
However, Elegushi restated the commitment of the state government in reducing travel time across the major arteries of the state.
"We had adopted various engineering solutions along with improving the traditional methods by which traffic is measured," he said, adding that the introduction of lay-bys had reduced travel time along the Ojodu Berger-Obalende axis to about 20 minutes.
While also stating plans for two others lay-bys along Ikorodu and Ketu along Ikorodu, the commissioner said the perennial logjam witnessed due to activities of commercial buses picking and discharging passengers would be a thing of the past as both would lead to 45 minutes travel time from Ikorodu to CMS.
The acting commissioner also stated that the investment in water transportation and its promotion, targeted a move toward 8% share of transportation activities from its present 2% position.
Elegushi averred that the provision of water transportation infrastructure and safety gadgets had significantly made Lagos waterways safer and more acceptable to the people, adding that proper channelization, route delineation and a broadly agreed operational guideline for operators have been key to the new boost the sector is showing.
Elegushi explained that the reviving of the state-owned Lag-Ferry by its restructuring would ensure that government was actively promoting water transportation.
He stated that various promoters and partners to provide ferries and manage ferries operations were being considered, adding that boats/ferries for transportation and leisure was to be purchased by the state government.  
Copyright Ships & Ports Ltd. Permission to use quotations from this article is granted subject to appropriate credit given to www.shipsandports.com.ng as the source.