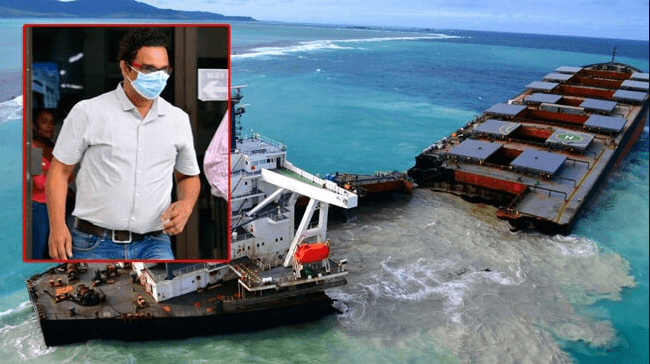 After 13 months in remand, the captain of the "MV Wakashio" has allegedly attempted an escape, Mauritius Prison Service said.
Having previously tested positive for COVID-19, Sunil Kumar Nandeshwar has been held in Petit-Verger Prison in Pointe-aux-Sables, a coastal village near Port Louis. He is suspected of having plotted an escape with a dozen other suspects mainly involved in drug cases on Friday night into Saturday.
The group apparently broke bars corroded by sea salt and used sheets to make a "rope" of at least 15 meters to flee. Four of them managed to leave their dormitory, but had to return after realizing that a guard with a dog on leash was coming in their direction. When the latter rang the alarm, an investigation was immediately launched to identify the leaders of the failed escape.
Sunil Kumar Nandeshwar, who has been charged along with his second-in-command, Subodha Janendra Tilakaratna, faces five years in prison and a fine of 30 million rupees, the equivalent of 596,000 euros, for the sinking of the ore carrier. The ship neared the Mauritian coast on the night of Saturday 25 July 2020 while en route to Brazil. The captain wanted to get cell phone coverage so that the crew could use WhatsApp.
The Wakashio grounded on the reefs of Pointe-d'Esny, in the South-East, later causing an oil-spill, the first of its kind in Mauritius. Since then, the captain has been denied parole by the Port-Louis District Court and the Supreme Court where he has appealed. Police objected each time, pointing out the risk that he would take advantage of this opportunity to leave the island, given his long experience as a sailor.
The captain had previously been languishing in the Line Barracks Detention Center, notoriously known as "Alcatraz", in Port-Louis, before he was sent to Petit-Verger Prison. His transfer may have prompted him to plan the escape, says a source at the Mauritius Prison Service.
His alleged accomplices in the escape are alleged drug traffickers, an alleged rapist and an alleged murderer. They have all been sent to solitary confinement at the Central Prison in Beau-Bassin as of Saturday.
Copyright Ships & Ports Ltd. Permission to use quotations from this article is granted subject to appropriate credit given to www.shipsandports.com.ng as the source.