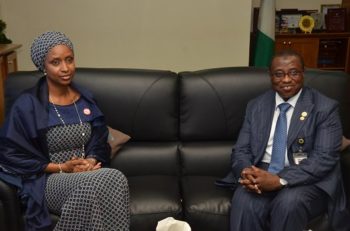 The Nigerian National Petroleum Corporation (NNPC), has said it would move some of its pipelines located in the Escaravos channel, to pave way for its dredging.
It is expected that the movement of the pipelines would take 12 months to complete.
The Group Managing Director of NNPC, Dr Mikanti Baru, said this while receiving the Managing Director of Nigerian Ports Authority (NPA), Hadiza Bala Usman at the NNPC headquarters in Abuja.
He said, "Because of the sheer number of the pipelines and the importance of some of the petroleum products they carry, we are looking at the timelines. It would take 12 months to relocate some of the pipelines.
"In some of the critical areas, we have agreed that because of supply situations, they would do an initial dredging that would give us at least 10 meters, especially in the Escravos areas."
The Federal Executive Council approved N13 billion for the dredging and reconstruction of navigation aids at the Warri Escravos seaport, at the value of N13 billion during its 11th April meeting.
Usman in her remarks explained that the pipelines in the Escaravos channel must be relocated and buried deeper to enable the dredging which will allow for larger petroleum vessels to dock in the port.
She said, "We are here to strengthen synergy and collaboration between NPA and NNPC. We are about embarking on dredging activities at Escravos and Ejigbo. There are a lot of pipelines that are buried within that location, so we want to work with NNPC on relocating and burying those pipelines deeper. This will enable NPA to dredge and have a deeper draft for bigger vessels to come to Warri and Lagos, thereby enhancing the supply of petroleum products and other larger vessels coming into the country."
Baru also used the occasion to seek for NPA's cooperation in the discharge of petroleum products at the ports. He called for the creation of a one-stop-shop, where all agencies dealing with the clearance of petroleum products can execute their duties in less time, as he argued that delays faced being faced by importers at present increases the demurrage paid on the products.