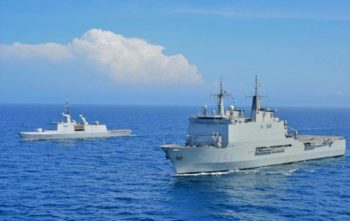 During the past week the EU Naval Force Spanish flagship, ESPS Galicia, and French frigate, FS Courbet, have conducted combined counter-piracy patrols off the coast of Somalia.
EU Naval Force warships, helicopters and maritime patrol aircraft carry out coordinated patrols along the Somali coast and further out to sea on a regular basis.
These patrols demonstrate the European Union's on-going commitment to help protect Somalia-bound World Food Programme humanitarian aid vessels and other cargo ships as they transit through the Indian Ocean and Gulf of Aden.
As the pirate attack on fuel tanker Aris 13 showed, armed pirates still have the intent and capability to get out to sea to attack vessels.
Speaking about the recent pirate attack, EU NAVFOR's Force Commander, Rafael Fernández-Pintado Muñoz-Rojas, who is on board ESPS Galicia, stated:
"We are all relieved that the crew from Aris 13 are now safe and able to contact their families.
"The attack highlights that we must not become complacent as the threat is real.
"I am proud of the men and women in my force who are working tirelessly to deter attacks on seafarers and their vessels."
Copyright Ships & Ports Ltd. Permission to use quotations from this article is granted subject to appropriate credit given to www.shipsandports.com.ng as the source.