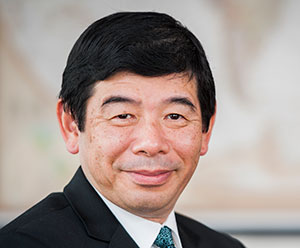 Secretary General, World Customs Organization (WCO), Kunio Mikuriya has announced that 2018 will be dedicated to strengthening the security of the business environment with the slogan, "A secure business environment for economic development,"
The WCO's annual theme will be launched on International Customs Day, which is celebrated annually by the global customs community on Friday, January 26, 2018.
The Nigeria Customs Service is also expected to join the global customs community for the celebration.
Mikuriya in a message to the global community encouraged members of the WCO to look at how they can create an environment for businesses that will foster their participation in cross-border trade and how they can best serve the people and empower entrepreneurs.
He said, "By "secure," we mean an environment that is enabling, safe, fair and sustainable, all wrapped into one. Such an environment will help businesses, especially micro, small and medium-sized enterprises (MSMEs), to expand their activities and create incentives for them to participate more fully in international trade, as well as encourage them to innovate, generate employment and invest in human resources, thereby boosting economic growth and raising living standards.
"Not only is it important for governments to support specific interventions for businesses to flourish, it is equally important to look at the external environment in which businesses operate. Therefore, from a Customs perspective, I would like to take this opportunity to develop the idea of a "secure" business environment further, especially its key elements: "enabling," "safe," and "fair and sustainable."
"Evidence-based research, recognized internationally, clearly shows that Customs can contribute to making the business environment more "enabling," or in other words, more stable and predictable by streamlining procedures, tackling corruption, enhancing integrity, and facilitating the cross-border movement of goods, conveyances and people in general.
"Ensuring safety is also critical. Legitimate businesses require a secure supply chain to prosper, but some threats come from within the trade itself, such as the shipment of illicit goods that could endanger peoples' health, safety and security. Combating cross-border crime, including the illicit funding of international terrorism through trade activities, is our responsibility, and one that Customs takes seriously in its efforts to ensure a "safe" environment. Last, but not least, Customs must strive to build an environment that is "fair and sustainable."
"The importation of illegal goods, such as goods that infringe intellectual property rights (I or legal goods which, for example, are smuggled into a country to avoid the payment of duty or whose value has been misreported, can do immense harm to a country's economy. It is not only a question of financial losses for both legitimate traders and governments, such activities can also affect governance, the economy, development and human security across the globe.
"All these different aspects of securing the business environment have been on the WCO's agenda for years, and many WCO tools, instruments and initiatives that have been developed can readily assist Customs administrations in building the ideal environment for international trade to flourish and grow, thereby enhancing economic development."
Copyright Ships & Ports Ltd. Permission to use quotations from this article is granted subject to appropriate credit given to www.shipsandports.com.ng as the source.