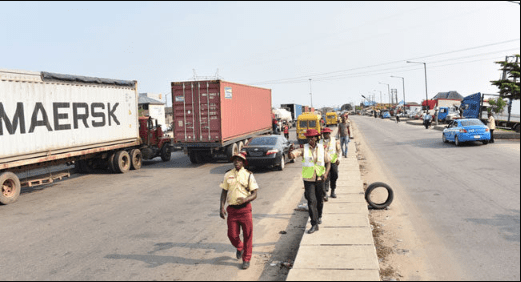 Residents of Apapa community yesterday expressed appreciation to the Federal and the Lagos State governments for finally clearing the gridlock on the highway and port access roads around the port area in Lagos.
On Sunday when SHIPS & PORTS correspondent visited the Apapa and Tin Can Ports, the roads leading into the two busiest seaports in Nigeria were devoid of the usual traffic chaos for the first time in several years.
The clearance of the port road started on Saturday when the new electronic call-up system introduced by the Nigerian Ports Authority (NPA) commenced.
To ensure effective implementation of the call-up system, NPA and the Lagos State Government had ordered trucks to vacate the highways and port access roads. All trucks doing business at the port are required to park at eight approved truck parks until they are called up into the port through an app named eto.
SHIPS & PORTS gathered that the eight parks are located at Ojota, Obanikoro, Oregun, Olowotedo Ibafo, Amuwo-Odofin, Orile-Iganmu and Okorisan Lekki Epe. The parks jointly have capacity to accommodate 3,000 trucks.
Some residents of Apapa, who spoke with SHIPS & PORTS on Sunday, commended the Lagos State Government and Nigerian Ports Authority (NPA) for finally getting rid of the gridlock, expressing hopes that the effort will be sustained.
Paul Odunlami, who lives in Apapa GRA said, "This is unbelievable. We thought the gridlock had become intractable. Government allowed the problem to linger for too long. I am happy that they have finally decided to take the bull by the horn. I hope and pray that they will sustain the effort.
Another resident, Chukwuma Vincent, said, "If you have been to Apapa in the past you will know what I am talking about. Our businesses went down, property lost value and people were dying.
"We call on NPA to sustain this. I drove through to my house for the first time in many years and I cried. I thought we had no government in Nigeria again. This is worth celebrating and I can only hope it lasts."
Port stakeholders, who also commended the new electronic call-up system, urged truck owners and drivers to cooperate with government to ensure that the gridlock does not return.
"When the port access roads are free, the cost of doing business at the port will reduce. For instance, it costs more than one million naira to move a container from Apapa or Tin Can to other parts of Lagos. This is because the trucks spend several days on the road before they could enter the port, but when they no longer waste so much precious time on the road, we expect haulage charges to reduce," a freight forwarder, Tajudeen Adeyemi, said.
In a tweet it posted on Sunday, NPA confirmed that sanity has returned to Apapa, as the gridlock has finally been tackled.