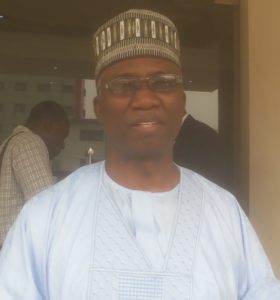 Dr. Vincent Isegbe is the Coordinating Director, Nigerian Agricultural Quarantine Service (NAQS). The agency recently organised a two-day training on plant health inspection and certification of vegetables for exporters and farmers as part of effort towards improving the quality and safety of Nigeria's export products.
In this exclusive interview with Shulammite 'Foyeku, Isegbe said the agency is also working to get the European Union (EU) lift its ban on beans export from Nigeria.
Excerpts:
Our agricultural products are often rejected by importing countries for not meeting required safety standards. What is your agency doing to remedy the situation?
Our main mandate as an agency of government is to prevent the spread and establishment of pest diseases and contaminant in agricultural produce that are either leaving the country or coming in so that we can ensure safe international trade. In the course of that, we inspect and certify a lot of agricultural produce that live the shore of this country. You will agree with me that the revenue from oil is falling so we need to go back to our first love which is agriculture We have been doing well in that area in the 1960,s and early 70's but in the 80's, and upwards, there has not been a lot of increase in agricultural produces in exportation. That is why we are emphasising that we have to put in place the process that will enable our commodities be accepted internationally. As a country, we are entitled to consume only safe and quality food, not junks to fill up the stomach. Nigeria should be self regulatory in food standards and not wait for any country to reject our agro produce. We have had issues in the past concerning beans where the European Union suspended Nigeria for three years for beans export. That is not good for us because it means that all the farmers who are producing beans can no more export the quantity that they use to export. All the traders in between, the warehouse people, the transporters and we who are involve in the inspection and certification, that aspect has been broken down because they cannot generate any revenue along the value chain anymore. So it is not just that the EU has suspended the export of Nigerian beans, there are lot of activities along the value chain that have been affected.
What is the agency doing to get the EU lift its ban on exportation of Nigerian beans?
As Agricultural Quarantine, we are doing everything we can to reverse the situation. The good news is that the EU said if we can put the process in place earlier than 2019, they will reverse their decision. So that is where we are. The problem then was that there was a wrong application of a chemical and in higher concentration too. So what we are doing is to make sure that we let the farmers know that this is the recommended type of chemicals to use, how to apply it, the shelve life of the chemical and the normal quantity to apply. So once they know, they will not apply it wrongly and they will use the correct chemicals and apply it appropriately. Once we are able to do all these things we are not going to have any issues. So we need a lot of sensitization and information to be pass along the value chain to the farmers who are planting the beans to the logistics manager who is transporting it and to the larger aggregate grain buyers who buy between 5 to 20 trailers that once at point A, chemical pesticides have been applied, it does not need to apply again because the message would have been passed to him through the appropriate organ of government that this batch of beans have been treated and they are safe and they will  remain safe for the next four to six months. So he will know whether he will be keeping the beans for that period and know exactly when to apply chemical if there is need and if he is going to export them immediately, he too will tell the exporter that he has applied the chemicals and therefore should not be eaten within that period. So there is need for sharing of information along the value chain so that everybody will know exactly what he or she suppose to do, so that at the point of inspection it will not be rejected. Concerning the inspection and certification training for vegetables, we organised the training because vegetables are one of those export commodities that we have develop since 2010. We have revolutionized it and there are more exports going in running into billions of dollars now. So we need to sustain it and you know vegetable is a delicate product because it is almost ready to eat. There are some of the vegetables that you don't need to cook at all so it needs more stringent inspection and certification procedures since most times we eat it fresh either as salad or after cooking. So such ready to eat commodity will need special attention. The importing countries will not want to see any dirt, bacteria, insect in the vegetables but we have found out that we are having issues with that. For example, if you are exporting ugwu, let only ugwu be in the carton, if you are exporting ewedu let only ewedu be in the carton. The cleanliness of the water they use in cleaning the vegetables is also important and we need to ensure that it is of high quality because once the water gets contaminated, it can affects the quality of the vegetables. Even as the agency saddled with this responsibility, we also need to put our officers on guard to check if we are slacking in one area or the other and what are we not doing proper. So we are also doing self-assessment, bring all the issues we have to fore so that we can better export these vegetables and we won't have any rejection.
Poor packaging of products has also been identified as one of the reasons why produce is rejected. What measures has the agency put in place to ensure products are well packaged?
We have just introduced new cartons for packaging some of our agro produce and since then, there have been great improvement compared with what it's used to be over the years although we are not yet satisfy with the level we are now. We want to further improve on it because the importing countries are setting higher standards day by day. So we cannot say because we were doing it better last year, we should just relax, no. We are improving on our processes every year and if there are new innovations, we call farmers, exporters and even air line operators are involved. This is because when we finish all our certification and we package it and there is a delay of flight, it will affect the quality of our products. So the airline operators need to know that since they are carrying perishable items, it is important for them to maintain by all means their flight schedule. If they have any issues, they should let us know early enough. We are also going to be talking to the police, Customs, Road Safety, National Union of Road Transporters so that when they see fresh agricultural produce leaving the hinter lands to the point of export, they should minimally delay it so that it can get to where we can examine them fresh. For example, maybe the papers of the vehicle carrying agricultural produce expired, what we see is that the whole consignment is been delayed. What we are saying is that the driver can be allowed to drop the consignment while he comes back to answer why he s breaking the traffic rules. Those are the things we want to draw the attention of the federal government to which invariably affects our certification.
There have been complaints from quarantine officials at the ports that Customs officers don't invite them for examination of export produce. What would you say about this?
We work closely with customs. However, there are some few government regulations that have been put in place since 2011 which the Minister of Agric has drawn the attention of the Federal Ministry of Finance to and they are working on it. The former government circular said that they need to invite us before we inspect. But we are saying that if you do that you are creating a gap. Suppose you are invited late or you are not invited at all and the commodities exit Nigeria, they will now report to quarantine that we are not doing our job. So there is need for us to create that harmony. Of course, there is a reason for government to send out so many agencies at the port but we are too critical to the survival of our agro export for government not to review the situation. The issue has come up at the highest level and we hope that soon the matter will be resolved. We are stationed at the port but Customs only invite us to come in and in some places, they don't even allow us to go in.  So it is important that government looks into this to ensure that we are at the right place so that any agricultural consignment going out, we are there to inspect them. If we are not there, then there is nothing we can do but when there is an issue, quarantine is the first to be called.
What is your message to exporters?
I want to encourage exporters and clearing agents not to run away from quarantine because we are partners in progress. It will not be safe for agents to take consignment in custody from the exporter or the farmer and not allow it to pass through quarantine and think he can do it in his own way. It will be rejected. In fact the national plan protection officer of the importing country will normally call the national plan protection officer for Nigeria; it is done at that level. They are not going to call any other government agency. Equally too, there are some government agencies that are claiming to be inspecting agricultural produce and they don't have the rights to do that. Invariably by their action, they are misinforming exporters and they go about getting wrong certificates which are not recognised.
So I want to appeal to exporters to come and get the prerequisite documentation to enable free passage of their commodities to outside countries. For those who fake certificates, we have developed our electronic platform which will curb some of these things. My appeal is we should join hands together and everybody do his own part because Nigeria will be the better for it at the end of the day.
Copyright Ships & Ports Ltd. Permission to use quotations from this article is granted subject to appropriate credit given to www.shipsandports.com.ng as the source.