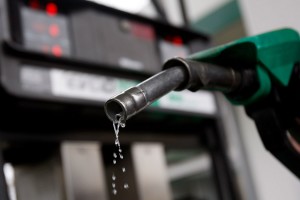 Recent move by Nigeria and four other ECOWAS nations to stop importing toxic fuels from Europe has raised hope among citizens of these nations of efforts to arrest the hazard and consequent catastrophe that could emerge from these imports on lives and vehicles.   Analysts believe the move could improve the health of more than 300 million people and preserve vehicles twice that number.
The United Nations Environment Programme (UNEP) said recently that Nigeria, Benin, Togo, Ghana, and Ivory Coast have pledged to introduce strict standards to ensure they use cleaner, low-sulphur fuels for their vehicles, effectively stopping Europe from exporting its dirty fuels.
Available indices show that European trading firms have been exploiting weak regulations in West Africa to export fuels with levels of sulphur up to 300 times higher than is permitted in Europe.
Swiss campaign group, Public Eye, said in a report late last year that the issue is a "ticking time bomb" as cities grow across Africa and populations boom in major hubs including Nigeria's Lagos and Ghana's Accra.
According to UNEP, "West Africa is sending a strong message that it is no longer accepting dirty fuels from Europe as they are placing the health of their people first. Air pollution is killing millions of people every year and we need to ensure that all countries urgently introduce cleaner fuels and vehicles to help reduce the shocking statistics."
Health experts said that sulphur is responsible for deadly heart and lung diseases. A combination of low-sulphur fuels and advanced vehicles emissions standards can reduce harmful emissions by up to 90 percent, according to UNEP.
Interestingly the five countries have also agreed to upgrade the operations of their national refineries to improve the quality of fuel by 2020, UNEP notes in a statement. To this end, Nigeria's Minister of Environment, Amina Mohamed, said the agreement would massively improve the air quality in the country and allow the nation to set modern vehicle standards.
"For 20 years, Nigeria has not been able to address the vehicle pollution crisis due to the poor fuels we have been importing," she declared.
Beyond West Africa, Kenya, Tanzania, Uganda and Morocco have all increased fuel quality requirements in recent years.
The challenge of toxic fuel in Nigeria took a new twist last September after Public Eye and Africa Network for Environmental and Economic Justice (ANEEJ), a non-governmental organisation (NGO) in Nigeria released a report claiming importation of dirty fuel into the country.
Public Eye, a group previously known as the Bern Declaration, shocked the world with the publication of its three years' investigations accusing two Swiss firms of exporting dangerous fuel simply termed 'toxic fuel' into Africa. The report named the companies involved as Vitol and Trafigura.
ANEEJ in a press conference and a rally in Abuja drew the attention of the federal government to the implications of the revelations from the report. According to its Executive Director, David Ugolor, "These Swiss commodity trading companies, Vitol and Trafigura, take undue advantage of weak fuel standard in Africa, deliver and sell diesel, premium motor spirit (PMS) and gasoline, which damage the health of our people. Their business model relies on an illegitimate strategy of deliberately lowering the quality of fuels for gain."
He noted that the companies, while collaborating with local conglomerates, use a common industry practice called blending to mix cheap and toxic intermediate petroleum products containing higher levels of sulphur and other harmful substances that can never be found in Europe and the United States.
He revealed that by selling such fuels and diesel at the pump in Africa, the companies involved increase external air pollution, causing respiratory disease and premature deaths. He attributed declining air quality associated with this low quality fuel to the increasing rate of stroke, heart disease, lung cancer, and acute respiratory diseases in the cities where such fuels are consumed.
The group warned of the implication of remaining silent while Nigerians are sent to their early graves basically due to the fault of those charged with the responsibility of monitoring quality of fuel imported into the country.  Ugolor linked one of the oil firms to one of Nigerians leading petroleum product marketing company, Oando Plc, pointing to its relationship with Vitol Group. The oil firm has since put up a defense to the allegations.
Although, Nigeria is the highest exporter of crude oil in Africa, the country has failed in the area of converting raw crude to the more valuable finished products. It is an open secret that its refineries are not working and there is no certainty as to when they will function, which makes it mandatory for the country to import fuel.
The issue of dirty fuel dates back to 1996 when an Italian vessel christened Ostention, laden with toxic fuel, gained access into the country's territorial waters, and some unsuspecting members of the public innocently bought contaminated fuel as genuine petrol. The result was massive damage of automobiles, generators and other machineries that use fuel as a source of energy.
The 1996 toxic fuel christened 'Abacha Fuel' was highly reported because of the negative impact on consumers.  In 2003, Nigerians were again exposed to the hazard of a similar experience before even the Oando toxic fuel saga of 2008. The federal government on May 11, 2016 announced that it has withdrawn from the substitution of premium motor spirit (PMS), thereby giving wider access to importers of petroleum products.
According the Petroleum Products Pricing Regulatory Agency (PPPRA) by virtue of the subsidy removal any private sector operators who may be interested in the importation of petroleum products and had requisite qualification is given leave to import.
While the toxic fuel issue has raid concerns, the move by West African countries to arrest the situation remains uncoordinated. The effort driven under the auspices of UNEP did not give full details of the changes or when they would come into force. Available reports show that this has caused uncertainty, particularly in Nigeria and Ghana, which consume more than half of the fuel used in the region.
Recently Ghana issued regulation and invited public comments on the fuel quality it wants. But inside sources said that a recent change in its government could delay new rules.
Nigeria also is said to still drafting its own rules, which meant that fuel suppliers who bid for 2017 contracts do not know the quality of fuel they will have to import.  Analysts said that follow-on detail has been conspicuously lacking, leaving the market effectively in no man's land.
However, experts believe that there is a need for the tightening of the law on importation of fuels to improve air quality in West Africa, where over 300 million people use fuel that has a sulfur content many times above what is legal in Europe and the United States.
Sulfur is obviously the target because of its recognized impact on respiratory health, and the acute danger in traffic-clogged cities like Lagos.
While the move to stop importation of dirty fuel thrives, investigations show that it will come with a cost. Expectedly, Nigeria and some other African nations may soon begin to pay more for clean fuel, which is projected to reduce environmental pollution on the continent.
Recently some countries, under the auspices of African Petroleum Producers' Association (APPA), met in Morocco to discuss the modalities for rejecting fuels with high sulphur content, as they constitute environment hazards for millions of their citizens. The meeting discussed extensively the chances of achieving sulphur reduction in imported fuels to the affected countries.
Dolapo Oni, head, Energy Research at Ecobank Group, said that currently, the sulphur content of fuel imported into Nigeria, is about 500ppm.
"The refining process that will take away about 450 parts per million (ppm) of sulphur content from the fuel would attract an additional $7. So considering the official exchange rate, that will add about N30-N40 to a litre of petrol."
He said there had been discussions with other stakeholders on who would bear the extra cost arising from the extra processing that will occur.
"What is really happening is to see if the Nigerian National Petroleum Corporation (NNPC) would take the cost off end users, because from all indications, the minister of environment who has been recently appointed as deputy secretary-general of the United Nations, Amina Mohammed, wants to leave the legacy of achieving the reduction and she is determined to see it happen," Oni said.
He raised concerns about the environmental implication of sulphur as well as its risk hazards. He also said the move to actualise sulphur content reduction from imported fuels would require a new policy from the Federal Government.
Also, Head of energy and natural resources at First Bank of Nigeria, Rolake Akinkugbe, said up to 20 per cent of Nigeria's oil imports was smuggled to neighbouring countries, so if the new fuel standards are to work, it would require regional cooperation and tough enforcement, which will add up to cost.
Achieving the new fuel standards is no doubt, a tall order considering the cost implications of further processing the product to reduce the sulphur content, but reports say the minister has vowed to realise the objective before fully assuming her new office at the United Nations.
NNPC spokesman, Ndu Ughamadu, said the corporation was working towards meeting improved fuel quality standards alongside the trade and environment ministries.
For Nigeria, Ughamadu said upgrades were underway at the Port Harcourt refinery, and planned for Kaduna and Warri refineries, where sulphur reduction equipment installation could cost millions of naira.