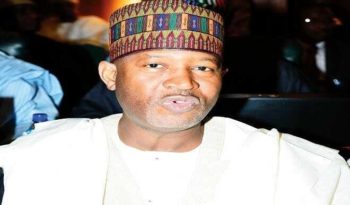 In this interview with our correspondent, the Minister of State for Aviation, Senator Hadi Sirika, spoke on the state of the industry, the national carrier, the second runway of the Abuja airport, and other issues.
You have been a minister for over one year now; how has the experience been, particularly as a government agent who was an industry player?
I am happy I was able to focus on what is important. We are more focused on safety and security of our airspace and airports, which are critical. It is the best we could have done in the circumstance. More importantly, there is a difference from what was previously obtained. These are institutional issues as against the normal day-to-day activities in the aviation industry. But again, more or less, people want to come into the airport and enjoy a serene environment, fantastic air-condition, conveyor belts, trolleys, toilets etc. These, we recognise, are important and must be provided in a decent society. But more critical are those items that must be in place to ensure that you begin a journey from point A to point B safely and in the most efficient manner. Those are the things we have set out to achieve.
Also, there are quite a number of things that are absent and stunting the growth of aviation in Nigeria and the sub-region, which we are also committed to fixing. Some of them include the national carrier. We will provide a national carrier which will fill in the gap. With the absence of Nigerian Airways, not so many airlines have grown in that capacity to serve our people well. So we think that with a private sector-driven national carrier, it will provide that service and can compete favourably and the market will grow.
Second is airports concession: We thought we should concession our airports, simply because there is no money in the government at the moment to finance them. Concession is the best option when you want to improve your asset quality, make more money and bring them in line with global best practices.
Thirdly, we also feel that we should establish a private sector-led and driven aeronautical university with the support of the government, the International Civil Aviation Organisation (ICAO) and some donor countries so that we can go into research and development. The intent is that in the future, we should be able to produce our aircraft and participate in aerospace competition and utilisation.
Fourthly, we also think we should attack the basic manpower resources in upgrading the Nigerian Civil Aviation Training Centre, now known as the Nigerian College of Aviation Technology (NCAT), Zaria, to become ICAO centre for excellence.
Fifth, we also decided to develop agro allied or cargo terminals for the export of vegetables and perishable items. This is extremely important in our opinion to ginger the economy and key into federal government's drive to boost agriculture. Of course, this is not limited to these as there are other issues like the aerotropolis or airport cities, if you like. We will develop them, but all of these cannot be achieved without funding. One way of sourcing funds is to create an aviation leasing company, which we will also do, but it will be private sector-driven.
We also intend to restructure our agencies to make them effective, efficient, and to bring them in line with global best practices, providing the needed services that have been eluding the industry in general.
We have succeeded in doing quite a lot. The parastatals are on their way to being restructured. The management has been changed for most of them; and in the next few weeks, we should commence the restructuring of the agencies – to bring some of them in line with the Act establishing them, and to make some of them more efficient and less top heavy as they are at the moment.
We are bringing new things. Since the 9/11 incident, our airspace has not been safe, so President Buhari recently approved that we reorganise and restructure our Aviation Security (AVSEC) to bring them in line with the global best practice and in the shape of the Transportation Security Administration (TSA) of the USA. The president also approved that AVSEC should become an arms-bearing entity, and we are on our way to making them as such. We hope to achieve more in a few months from now. We have a focus and we have achieved quite a lot. I think the future will be brighter.
Are there companies that have indicated interest in the national carrier? Is there a timeline for the project?
There are quite a number of companies that have indicated interest, both locally and internationally. We have been talking to them, but we can't name them now. However, we have appointed a transaction advisor that will be announced soon. The transaction advisor is driving the process. I can't say for sure when we would conclude, but we should begin soon. The establishment of the National Carrier will conclude before the concessioning of the airport. Once we finish dotting the details, we should have the national carrier. As per the timelines of other activities that we will be doing like the Aviation University, the FCT ministry has agreed to allocate the land to us. We are sending a team to ICAO to further discuss the matter with them.
When will the new international terminal buildings across major airports be completed?
The terminal buildings being erected in five airports across the country are supposed to have been finished by Christmas 2016. I had said so to stakeholders. Unfortunately, it's not a project we are directly running, it is being driven by the Ministry of Finance with China's EXIM Bank.
There are issues regarding the payment, which I think have been resolved. As per finishing the terminal buildings, it should be before the end of first quarter of 2017. However, I have my doubts if they would become operational at the time because they have certain challenges. The one in Abuja has no link to the old structure, no apron space provided; the little one that is available is obscured by the fire service. Even if you remove the fire service from there, at best you would accommodate one large-bodied aircraft. Again, there is no sewage, no power etc, so it's a huge challenge.
The building itself is blocking the control tower and the tower has to be moved. And the story is the same in Lagos. So even if the terminal building is complete, it would take time for them to become operational. But we will do everything possible to put them to use as soon as possible.
For security reasons, some stakeholders have called for an entirely new airport, far removed from the current one. Does this tally with your plans?
Personally, I have been on the second runway for Abuja airport long before I ever dreamt to be a government agent. I made case for it for over 20 years. It's long overdue and we ought to have it. I will try to see if I could push it through in this 2017 budget. It is really a necessity, not only because of the efficiency of the airport and the comfort of passengers but because of safety, which is most important. At least we have been put to test now that the only existing runway has failed and left us with nothing to work with. Even if it's for this reason, it has underscored the importance of having a second runway.
Service delivery in the industry is still a cause of concern. A lot of issues around flight delays, cancellations, lost or delayed baggage etc. What are you doing about service quality?
We are trying to turn the industry around. Also, the national carrier we are bringing should give passengers a choice. It will have the capacity to take care of our esteemed passengers. The national carrier will give the existing airlines a run for their money. We are proactively addressing other matters that are hindering the growth of the aviation industry.
The Abuja airport will be closed for six weeks. Without belabouring the issue, what is your message to Nigerians on the closure?
Nigerians should expect a new aviation industry, aimed at improving safety significantly. Secondly, we want to leave an enduring industry behind. On the closure of the Abuja airport for six weeks, we ask our customers and clients to please bear with us. What we are doing is in the interest of safety. We want to assure them that when we say six weeks, we mean six weeks. If there is any challenge in the course of the closure, our customers can approach the consumer protection unit of the Nigerian Civil Aviation Authority (NCAA).
Source: Daily Trust.